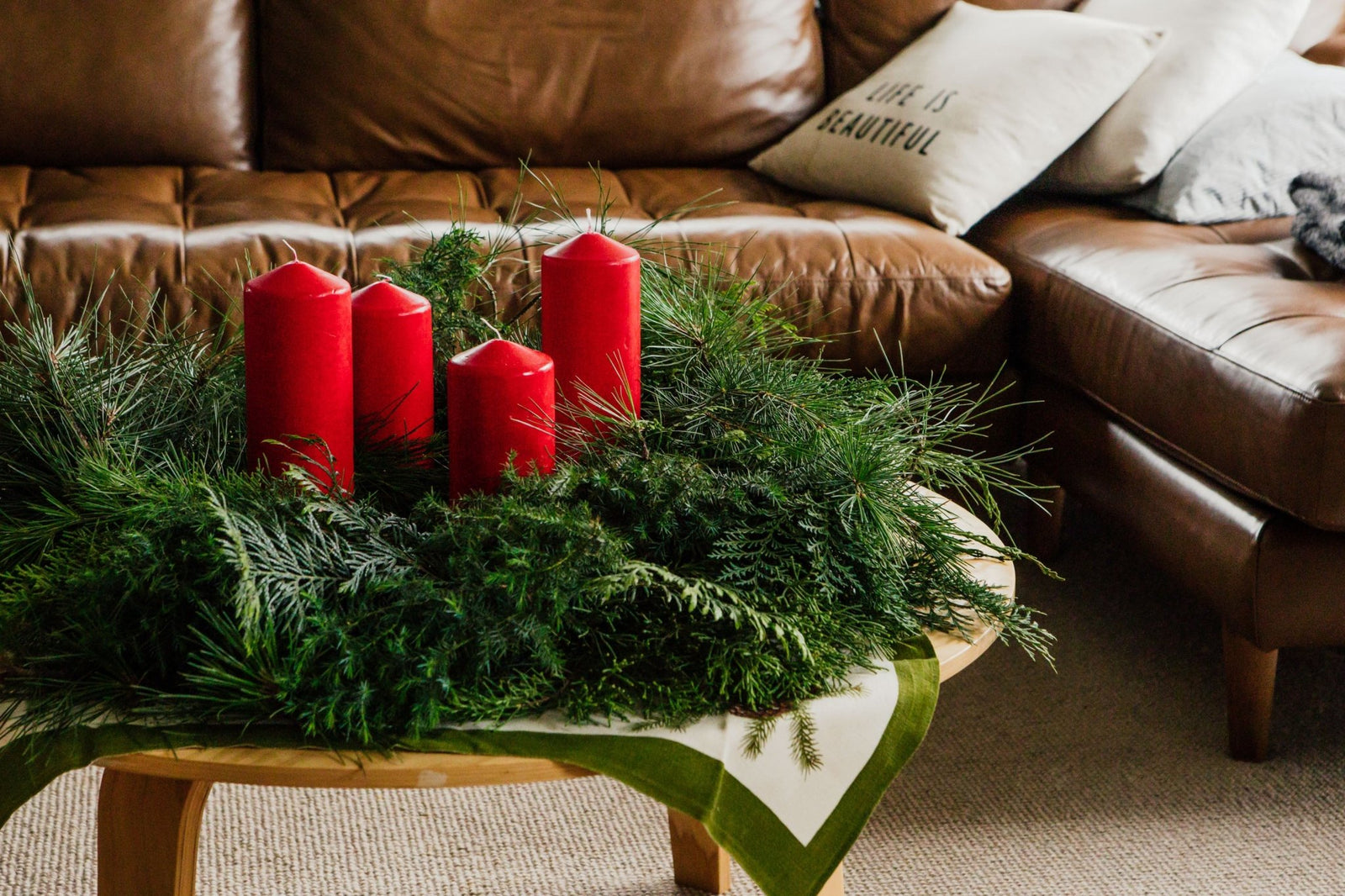 How To: Make an Advent Wreath
by Maria Konecsny
Advent time is one of my favourite times of the year, even in summery Australia. This special period leading up to Christmas is full of traditions.
Here are some tips on how you can bring these traditions into your homes to enrich the lead-up to Christmas.
What is Advent? 
Advent is a time of preparation for Christmas, beginning on the fourth Sunday before December 24 and is rooted in Christian faith. Each Sunday, various Christmas preparations are carried out in the home.
Growing up in Germany, Advent was always a time we looked forward to immensely as it meant Christmas was not far away. Sundays were spent at home baking and crafting, going out with dad to pick a Christmas tree in the snow-covered forest, or sitting around the fire eating cookies and drinking Advent Christmas Tea with friends and family.
Some of the things we do during Advent
Countdown with an Advent Calendar
This is usually filled either with chocolates or small gifts, but my favourite version is one in which the family write little notes expressing gratitude for what we have in our lives.
Make an Advent Wreath
An Advent wreath is absolutely essential for me to feel like Christmas is on its way. Like an Advent calendar, it allows us to count down to Christmas, but it does this only on Sundays. The wreath holds four candles, which are lit, one by one, on the four Sundays leading up to Christmas. I like this because it gives a focus for our family to remember that Sundays in December are for family time, for slowing down, for baking. It also brings that vibrant pine green into the house and a lovely pine forest smell. See below on how to craft your own wreath.
Bake Christmas cookies
Baking Christmas cookies is almost a German birthright, which most families still do uncompromisingly on the Sundays leading up to Christmas. Baking together with Christmas music playing in the background is still one of my favourite things to do. If you don't have a lineup of your favourite Christmas cookies here are some great recipes to get you started.
Decorate the house with ornaments
Decorating the house with Christmas ornaments like candle arches and spinning pyramid makes everything feel like Christmas. The day we get out all the Christmas decorations is a day my son looks forward to all year. We really take our time with this and play Christmas music as we decorate our space.
Set up your Christmas tree
A Christmas tree is something most people are familiar with and bring into their houses every Christmas. Instead of a real tree (I still can't bring myself to cut down a tree!), we have a fake one as well as the real wreath. Our tree hack is to weave real branches through the fake ones, so that the fake tree serves more as a skeleton for pine tree branches. Everyone wins!
How to make an Advent wreath
What you'll need
Conifer, fir or spruce branches, approximately 40cm long and reasonably slender. Look around your backyard, road sides and parks – a good selection of different types of needle and conifer makes for the most interesting wreath.
45cm metal wire wreath frame (such as this one)
Natural twine
Secateurs
Scissors
4 stand-alone pillar candles
Decorations for your wreath – look for hanging tree ornaments, whole walnuts, small crabapples, even baubles. Whatever takes your fancy.
Here are the steps to making one for your home
Select some slender, bendy and dense branches for your base layer. Conifer works well here. Lay the branches on top of the wire frame, snapping and nipping any areas where the branches are resistant to the curve of the frame. Work around the wreath.
Cut approximately 30cm long pieces of twine and tie the branches on at roughly 10-15cm intervals around the wreath, ideally tying where the ends of the branches are. Start at one point and work around the wreath, tucking the ends of the branches under the foliage as much as possible.
For the top layer, select a mix of shorter branches for each piece of twine. Tie them on approximately 2cm from their ends and tuck the twine away. Work around the wreath so that the next branches you lay cover the last twine and branch ends. Work around until you are at the last twine. Here, gently move the first lot of top layer branches aside to tie the ends of the last bunch, then cover back over.
Place your wreath on a low coffee table or as the centrepiece of a dining table. Add the candles to the inside cavity in the wreath and decorate the wreath as desired.
When do you light the candles?
Light the first candle on the first advent (4th Sunday before Christmas).
Light the first and second candles on the second advent (3rd Sunday before Christmas)
Light the first, second and third candles on the third advent (2nd Sunday before Christmas).
And then lastly, light the first, second, third and fourth candles on the fourth advent (one Sunday before Christmas) as well as on Christmas Eve and Christmas Day.
Frohe Weihachten!