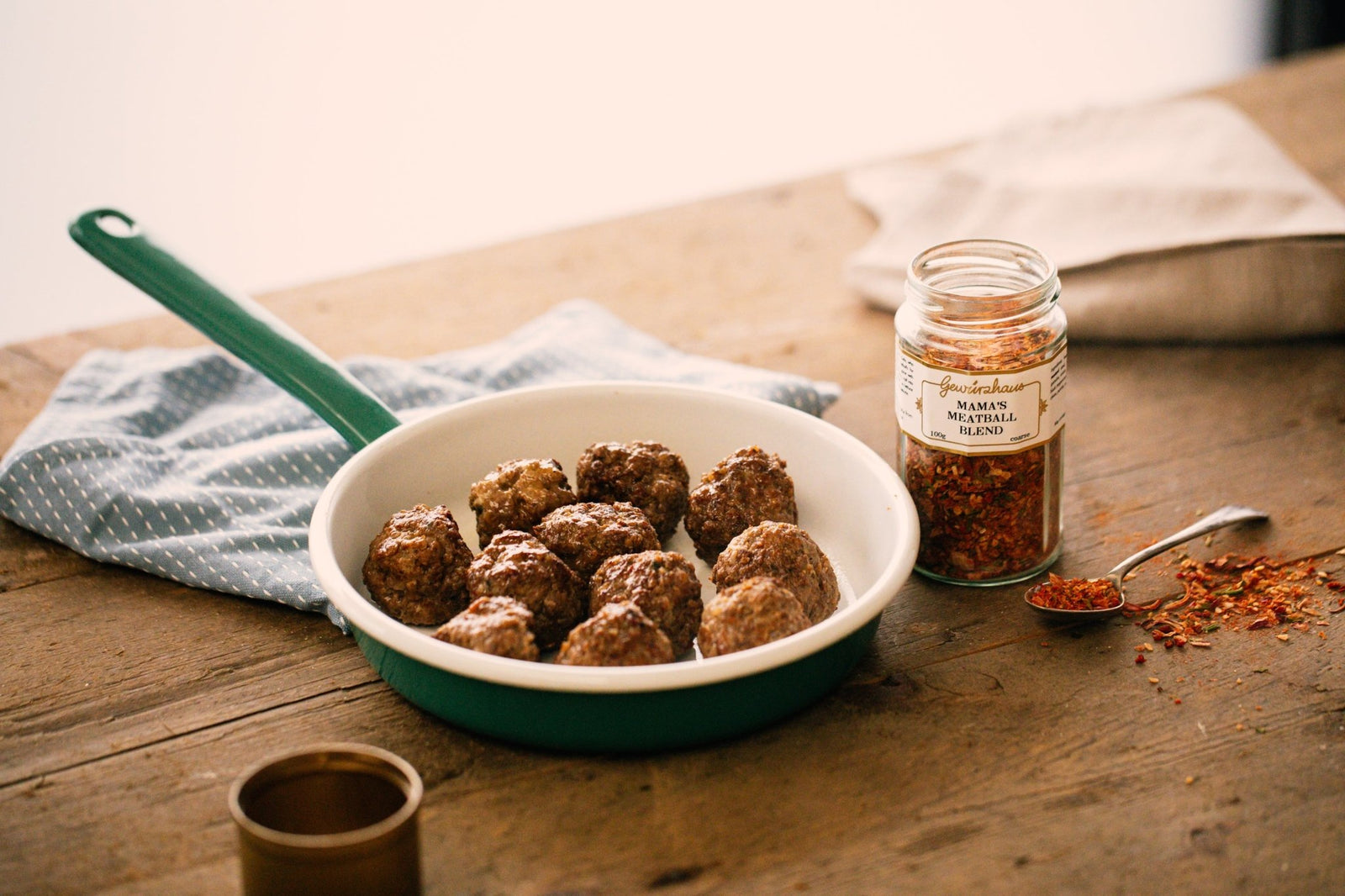 How to Keep Meatballs from Crumbling
The humble meatball can be a thing of beauty, whether incorporated into a lazy Sunday lunch with good company and wine, or as a speedy mid-week dinner, leading to an appearance in the following day's lunchbox.  
Good meatballs are succulent morsels of flavourful, ground meat, as versatile as they are delicious. On the flip side, dry, rubbery meatballs can be a disappointing prospect, more suited to the tennis court than the dinner plate. 
Read on for our collection of helpful hints to master the art of the meatball, keeping them juicy and tender without crumbling, resulting in perfect, meaty morsels every time. 
It all starts with the meat 
Not all ground meat is created equal. When selecting the base for your meatballs, think about how fat content will play a part. Fattier meats such as non-lean beef, lamb and especially, pork will produce more succulent meatballs, whereas leaner proteins like chicken, turkey and kangaroo will dry out more quickly. If poultry is your meat of choice, pay extra attention not to overcook the meatballs, as they can turn rubbery very easily. Fry in plenty of oil or lard to keep them moist and cook them slowly on low heat after they are seared. 
There are no rules against mixing proteins, so feel free to experiment. Our favourite combination is half beef or kangaroo, half pork, like in our Mama's classic German meatball recipe. If you're unsure of which meat to use, talk to our spice merchants in store about your best option. 
Flavour and texture make a big difference 
Meatballs are a great way for home cooks to get creative. Try adding chopped, toasted nuts for a subtle crunch or a small amount of dried fruit for an element of sweetness and chew. 
If you're running short on time and keen to pack in the flavour, it's all about the herbs. Our Mama's Meatball Blend cuts down prep time with the addition of dried onion and garlic, so no chopping or tears necessary! The inclusion of paprika, chives and oregano results in a complex flavour hit, to be gently mixed into your mince for speedy, flavourful meatballs. 
Bind but don't overwork 
Because meat shrinks when cooked, mince proteins are likely to separate and crumble unless bound together. Whether it's breadcrumbs or egg (or both), or simply salt, binding the mince is a crucial step in maintaining the softness of your meatballs while preventing them from falling apart. Try soaking your breadcrumbs in milk for extra moisture and fluffiness. If using eggs, 1 large egg per 500g of meat should suffice – too much egg in the mixture will produce a firmer result. You can also make simple paleo meatballs with the addition of just salt and spices. Our Paleo & Gluten Free Meatball recipe walks you step-by-step through the process. 
When blending in flavourings and rolling your balls, always handle the mixture gently, making sure not to overwork it. Too much processing will result in bouncy balls rather than melt-in-your-mouth perfection. This is the single most important trick to making succulent, delicious meatballs, regardless of the protein you are using and the method of cooking. 
Keep it cool 
It's important that the fat content, which keeps the meatballs succulent, remains cool and doesn't break down while you work with the mixture. You can prevent this by using a fork to mix your ingredients and by making sure that any pre-cooked elements (i.e.. toasted nuts or caramelised onions) are completely cooled before being added to the mix. If you're making the mixture ahead of time, keep it in the fridge until it's time to roll and cook your meatballs. 
The taste test 
Like in all cooking, seasoning is key. To check your meatballs for seasoning, fry a small portion of your mixture in a pan and see what your palate tells you. Needs more salt, spice or herbs? Try sprinkling a tiny amount into another tester piece and taste again. If you're right, add some more to the whole mix. Follow your instincts and don't be afraid to test multiple times until you get that perfect balance. You'll be grateful that you took the time to test them when the compliments roll in.  
The best cooking method 
There's more than one way to cook a meatball. Choosing the best option for you depends on the amount of time and effort you have available. Read our blog on the pros and cons of frying, baking, boiling and braising.