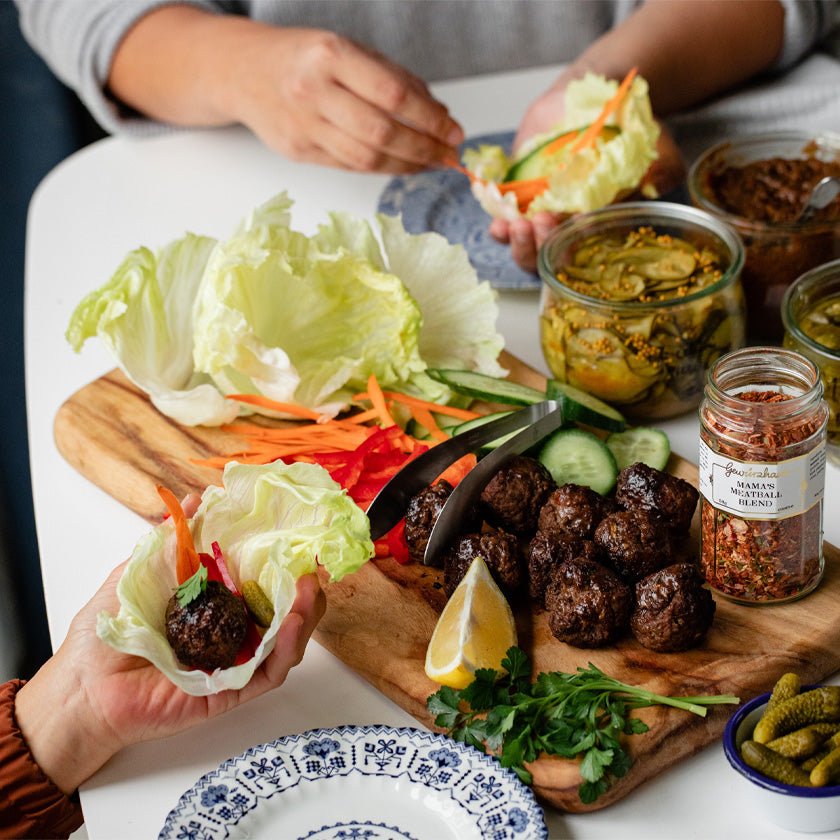 Meatball Leftover Hacks
There are so many meatball recipes to choose from, and when it comes to repurposing this staple family favourite, the sky is truly the limit. Read on for inspiration to create next-day winners that will level-up your leftover game.  
The classic Spaghetti and Meatballs has a hand-held spinoff, which has been gaining popularity here in Australia – the mighty Meatball Sub. Per the name, you'll need a long 'sub' bun, preferably one with a robust crust to keep the sauce contained and the bread from disintegrating. Toast your bun lightly in the oven and heat leftover meatballs and sauce separately. Gently spoon meatballs into the toasted bun, drizzling some sauce over the top. Add a good melting cheese like provolone or mozzarella, then grill lightly in the oven to melt. Enjoy with napkins close by! 
If you're after something light, quick and easy to eat between work from home video meetings or packed into school lunchboxes, try serving leftover fried meatballs in lettuce cups. This works particularly well with our recipe for Mama's Everyday Meatballs, which taste just as delicious cold with raw veg or on toast as they did on the dinner plate the night before. Separate iceberg lettuce into small cups and nestle a couple of meatballs in the middle. Layer over sliced cheddar, pickled cucumbers and mayonnaise for an easy and light lunch or dinner. 
Who doesn't love homemade pizza? Use your excess meatballs as a topping by slicing and layering them onto a pizza base. You can buy a ready-made pizza base, use pita bread or try our quick and easy pizza dough recipe. Start off with tomato sugo, add your meatball slices and top with mozzarella before baking in the oven on 220°C for around 10 minutes. Serve scattered with basil leaves and pretend you're in Little Italy. 
Last night's Spanish Meatball Tray Bake (Albondigas) can be rolled over into a fantastic Tex-Mex-inspired salad for today's lunch. Cut warmed meatballs in quarters and toss with lettuce, sliced spring onion, avocado, crumbled queso fresco or feta, diced avocado, tomato salsa or leftover meatball sauce and ranch dressing (either store-bought or made with Gewürzhaus Ranch Spice). Optional additions include a dollop of sour cream and a sprinkling of hot sauce. 
Lastly, put a Middle Eastern spin on your leftover baked or fried meatballs by using them in a wrap. Spread some hummus onto a pita or flatbread and cover with spinach or kale. Next, rest a few meatballs in the middle and top with thinly sliced capsicum before finishing with some garlic-spiked yoghurt. Roll it all up and add it to your lunchbox. 
There are endless options for using surplus meatballs; we have just scratched the surface here. Whatever path you take, get creative – you'll quickly see that these meaty morsels can be crowd-pleasers two meals in a row.