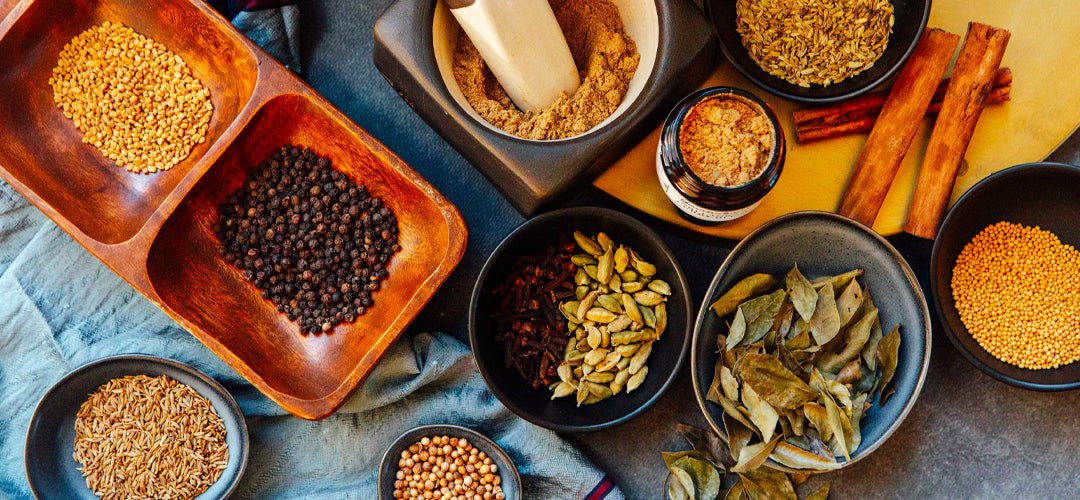 A Guide to Spice for FODMAP Sensitivities
Guest blog by Bec Ponsford, Accredited Practicing Dietitian and Spice Merchant
Anyone who has removed onion or garlic from their diet knows how challenging it can feel to find alternative ways to flavour meals. Whether you are following a full low FODMAP elimination diet or moderating a few foods in your diet to manage food intolerances, cooking without these aromatic staple ingredients does not have to make your meals flavourless.
Onion and garlic are two of the top ingredients that form the aromatic base of almost every savoury recipe from curries and soups to stir fries. But eliminating onion and garlic does not mean you have to miss out on delicious meals. Gewürzhaus has plenty of unique herb and spice blends as well as single-origin spices, that contain no onion or garlic yet are still full of flavour.
Here's a guide to onion and garlic free spices and how you can use them.
Moroccan and Middle Eastern
Delicious and complex, Moroccan, Middle Eastern and African spice blends are a wonderful way to explore new flavours in everyday cooking. Moroccan and Middle Eastern spices are naturally low in onion and garlic, making them well suited to those on a low FODMAP diet.
Here are five suggestions for blends for a FODMAP diet:
With the likes of Yotam Ottolenghi and Sami Tamimi inspiring Middle Eastern and Mediterranean cooking at home, these flavours can be enjoyed by everyone with or without food sensitivities.
Indian and Sri Lankan
Indian and Sri Lankan cuisine is known for its prevalent use of garlic and onion. But you can navigate this cuisine and still enjoy these rich flavours with a few cleber substitutes.
Quick Butter Chicken Blend has become a true household favourite. This spice blend does not contain onion, garlic or chilli, meaning you can cook it to suit your family's preferences. If using the crowd-pleasing 30 Minute Butter Chicken recipe, substitute the fresh onion and garlic for ½ teaspoon of Asafoetida and 1 tablespoon of garlic infused olive oil for a low FODMAP variety.
Enjoy Sri Lankan flavours with Suja's Sri Lankan Curry Blend, containing complex island flavours with no onion or garlic. Use a similar substitute as described above to fresh onion and garlic if you're cooking the Sri Lankan Chicken Curry, or make a vegetarian curry with your favourite low FODMAP vegetables (such as carrot, pumpkin and green beans).
Other onion and garlic-free Indian blends include South Indian Seafood Masala – great for a light fish or seafood curry – and Garam Masala, a staple spice blend based off cumin, cinnamon, coriander and clove.
Asian
Whether you're making low FODMAP Chinese dumplings, Japanese salmon or Cantonese salt and pepper squid, having a good base flavour is paramount. Find just what you need with fragrant Chinese Five Spice, irresistible Shichimi Togarashi and fiery Salt & Pepper Squid.
European
While many classic European spice blends use onion and garlic, there are still options for flavouring your soups, roasts, stews and preserves.
Mixed Herbs can be added to everything from hamburgers to soups and pasta sauces.
Try Herbes de Provence, a famous herb mixture from the region of Provence, in sauces, vegetable dishes and with fish, chicken or meat.
When slow cooking, Bouquet Garni will infuse flavours of thyme, bay leaf, marjoram and parsley into stock, soups, stews and casseroles.
If you're keen to try some traditional preserving and fermenting, English Pickling Spice is an easy to use combination of whole spices, peppercorns and bay leaves.
Don't forget salt and pepper
It's perhaps easy to overlook the power of good quality salt and pepper. Sometimes, these are all that's needed to bring out the flavour of ingredients in cooking.
All single origin salts and pepper contain no onion or garlic. Notable unique choices include Native Red Gum Smoked Salt, hot Native Australian Pepperberry, citrusy Sichuan Pepper and sweet Pink Schinus Peppercorn. Amongst the Gewürzhaus salt blends, Black Truffle Salt, White Truffle Salt, Chilli Salt and Vintage Merlot Salt have some of the most incredible aromas.
In the area of pepper blends, Pepper Melange and Peppermill Trio are must-haves to add to your peppermill. If you're looking for a pre-ground pepper mix, all-Australian Native Lemon Pepper and Middle Eastern Sumac Pepper both give zesty and fruity notes to any meat, seafood, salad, rice or yoghurt dish.
The Sweet Blends
As expected, the whole range of sweet Gewürzhaus spice and sugar blends are made without onion and garlic. What's great about the sweet spice blends is that they are made simply of spices, with no added sugar. This means they can be used to enhance sweet and savoury dishes alike. Try the Pumpkin Pie Spice in your next roast pumpkin soup or gnocchi. Apple Cake Spice can be used to add fragrance to rice dishes, Mayan Chilli Chocolate Spice adds a beautiful richness to gravies, sauces, mole and red meats while Turmeric Latte Spice is delicious in savoury muffins or spiced carrot soup.
Single Origin Herbs and Spices
When it comes to the range of single-origin herbs at spices, there is quite literally a world of flavour to choose from. Aside from a few specific types of chilli (ancho and chipotle chilli), and of course onion and garlic powder, the remaining spices and herbs are considered to be low FODMAP at a serving size of at least one teaspoon.
Asafoetida
A notable favourite for fodmappers is Asafoetida. This pungent Indian spice is made from the dried white resinous sap extracted from a variety of giant fennel. It is used readily in traditional Indian cooking, usually, it is cooked off in a hot pan of ghee to form the aromatic base of curries and stews. In traditional Ayurvedic medicine onion and garlic are often avoided as they are believed to stimulate irritability and excess heat in the body. Asafoetida makes for a common replacement for onion and garlic. When cooked, it resembles a smooth flavour, similar to sauteed onion or leek. Use ½ teaspoon asafoetida powder to substitute approximately 1 small onion or 2 garlic cloves.
Notable single origin flavours
You may have noticed a lack of Mexican, American and South American blends on the list of spices with no onion or garlic. Of course, you don't have to completely rule out these cuisines on a low FODMAP diet. Staple spices that make a great addition to tacos, tostadas, grilled meats and vegetables include Cumin, Sweet Paprika, Smoked Paprika, Oregano and Hot Chilli Flakes. Other classic single spices that are a must for every spice drawer include Ginger, Coriander, Turmeric and Nutmeg.
For the most adventurous cook, saffron is a must. Likewise, Australian native herbs are an exciting and delicious way to bring some traditional bush tucker into your home. Explore the flavours of citrusy Lemon Myrtle, herby Salt Bush and chocolatey roasted Wattleseed.
Our diverse range of blends and single-origin salt and pepper has something to suit every cook. Even without these alliums, there is still a world of flavour to be explored and enjoyed.