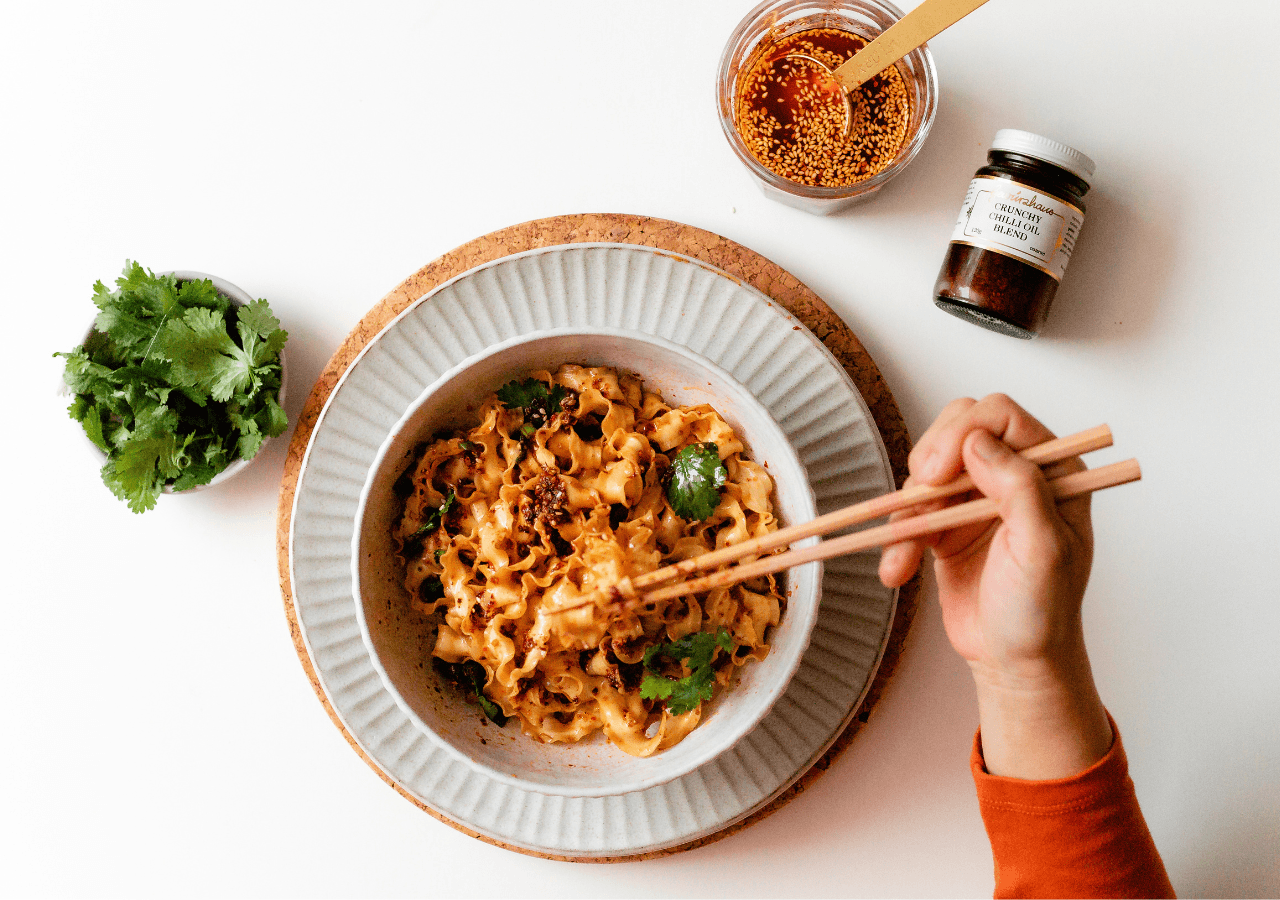 5 Delicious Ways to Use Chilli Oil
Chilli oil is a great all-rounder condiment since it complements so many dishes with its spicy and umami notes. Many associate chilli oil with Chinese cuisine and, whilst it is widely used in many regions around China (such as Sichuan, Hunan and Shaanxi), you'll find a variation of this crimson beauty in the kitchens of Japan, Korea, Turkey, Portugal and Italy too.
Our Crunchy Chilli Oil brings together the best of these cuisines. It contains Aleppo, chipotle and gochugaru chillies, but it's mildly spicy, highlighting their smokiness and mild sweetness instead. The umami component is brought to life with shiitake and porcini mushrooms and red miso. Crunchy coriander and sesame seeds seal the deal. Keen to have a taste? Here are our favourite ways to enjoy our Crunchy Chilli Oil.
Drizzle it over dumplings
A classic combo that never fails to satisfy. Dip them or douse them, you'll never eat your dumplings without chilli oil again.
Toss it with noodles
Rice, wheat, buckwheat – whichever your choice of noodle, amplify your eating experience with a generous spoonful of chilli oil mixed in the sauce.
Pour it over smashed potatoes
Potatoes are the perfect vessel to deliver the umami goodness straight to your tastebuds. Add a dollop of sour cream for a beautifully balanced morsel.
Cook your eggs in it
Awaken your senses with a breakfast like no other. Baste your eggs with the oil until cooked through, then pour the remaining oil over toasted sourdough. Perfection!
Add it to cheese sandwiches
Bread, cheese and chilli? It's a combination that sparks fireworks! The chilli oil will also elevate you may want to throw in there too like chicken, beef or grilled veggies.