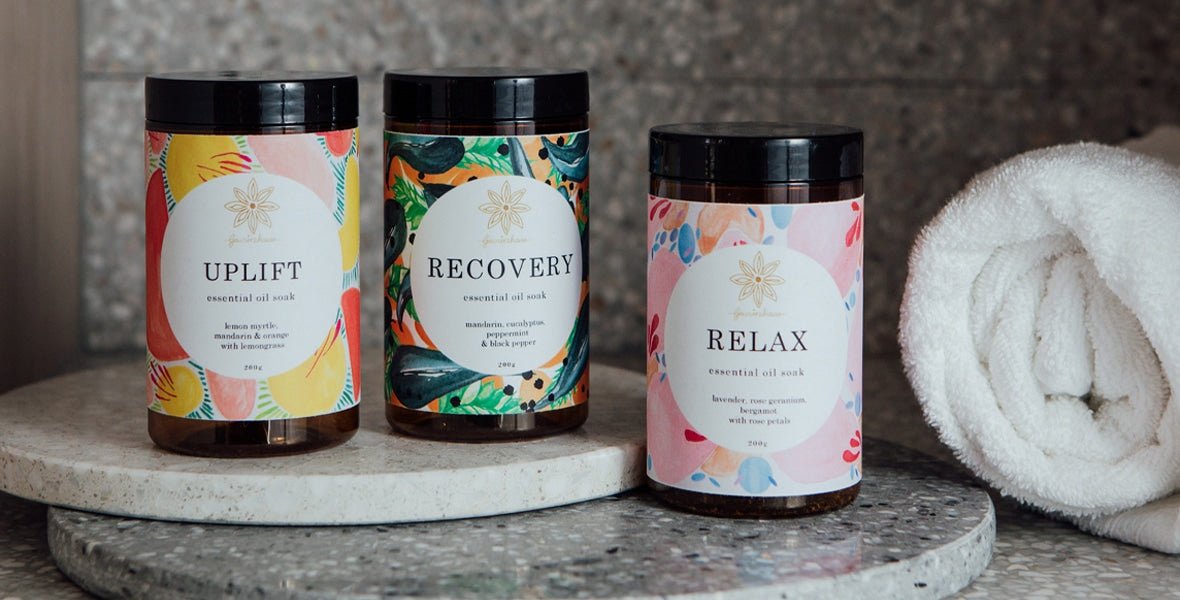 Essential Oils: The Benefits and Uses
Guest blog by Celestine Hade, Director, Botany Essentials.
The aromatherapy benefit of essential oils has long been recognised and acknowledged as not only pleasing to the senses, but also of psychological benefit in promoting a sense of relaxation or rejuvenation (depending on the essential oil or essential oil blend in a product).
Do yourself a favour – explore the world of aromatherapy and take a bath with our Essential Oil Bath Soaks.
True aromatherapy uses only 100% natural and pure essential oils. This was of paramount importance when Gewürzhaus approached Botany Essentials to create a unique and stunning range of essential oil soaks that will transcend your regular bath ritual. Pure essential oils are highly concentrated liquid essences of plants and are not the same as fragrant oils or perfumes. Fragrant oils are made to synthetically mimic nature and may cause allergies, asthma and headaches. Adding essential oil infused salts to your bath is a great way to unwind and take a break from the everyday pressures of our busy lives as well as help promote a restful sleep so you can wake refreshed and ready for anything.
Recovery Essential Oil Soak
This is perfect for post anything – sports, exercise or even an overdose of partying – mandarin, eucalyptus, peppermint and black pepper infused in the beautiful Gewürzhaus Black Lava Salt will have you feeling recovered in no time.
Mandarin: Reduces the negative effects of daily stress, promotes deep, restful sleep and supports feelings of contentment and well being.
Eucalyptus: Supports the respiratory system and helps to soothe aches and pains.
Peppermint: Great for relieving back pain, mental fatigue and tired feet!
Black Pepper: Invigorating and warming. Good for your circulatory and digestive system.
Relax Essential Oil Soak
Use this when you need to switch off and unwind. Soak away your tensions in lavender, rose geranium and bergamot infused Gewürzhaus Himalayan Pink Salt with sprinklings of rose petals and lavender flowers.
Lavender: Helps to relieve anxiety and promote a restful sleep.
Rose Geranium: More anxiety busting to leave you feeling super relaxed.
Bergamot: and just in case you start thinking again, let's add this great anxiety reliever and mood booster – bergamot is known to reduce levels of cortisol as well as help you feel energised and happy. What's not to love!
Uplift Essential Oil Soak
Infused with lemon myrtle, mandarin and orange with gorgeous lemongrass cuttings, this bath soak is skin softening and tension relieving. High quality Gewürzhaus pure Epsom salts will leave you feel refreshed and restored.
Lemon Myrtle: a unique combination of properties in this beautiful Australian essential oil – calming, uplifting and refreshing.
Mandarin: reduces the negative effects of daily stress, promotes deep, restful sleep and supports feelings of contentment and well being.
Orange: an uplifting and general feel good essential oil make this the perfect all-rounder.
About Botany Essentials
Botany Essentials is a Melbourne-based skin care manufacturer with over 23 years experience in the creation and production of premium aromatherapy products. The essential oils used in our range have all been extracted from the plants either by cold pressing or by steam.