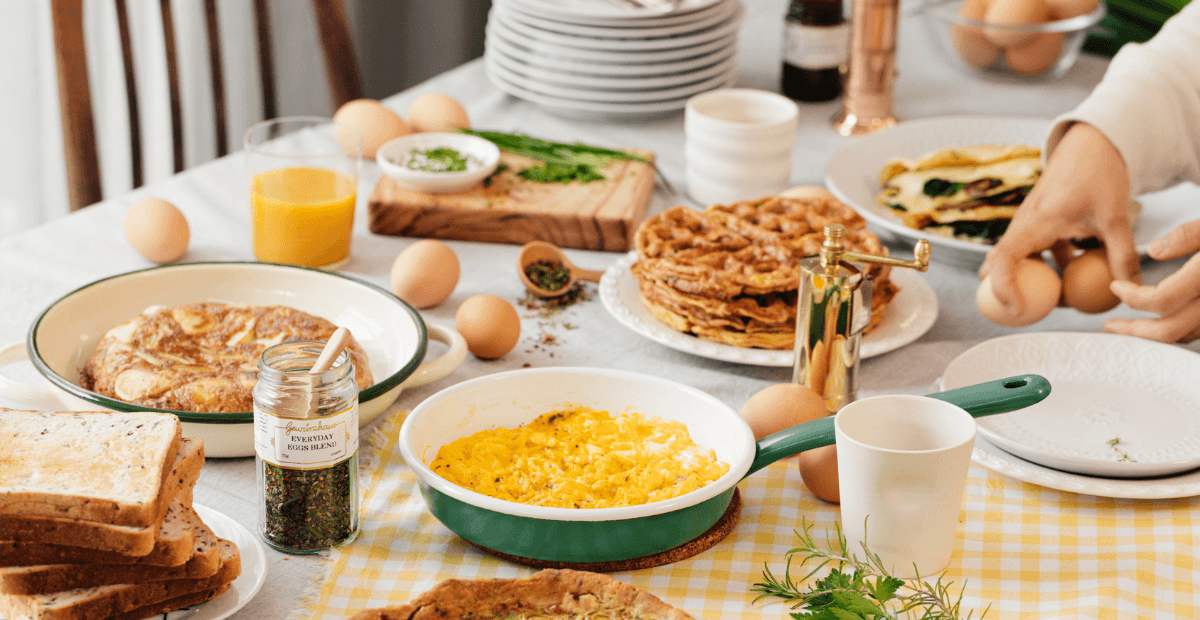 10 Breakfast-for-Dinner Ideas
Breakfast foods are appealing at any time of the day. In fact, there are lots of delicious options that can be served up for dinner and still be considered a well-balanced and satisfying meal. Plus, you won't need as much time or ingredients to get them on the table, because that's the beauty of breakfast foods! Have a go at switching up your weekly meals routine and give one of these tasty dishes a try.
Chaffles
When it comes to cheesy, crispy waffles it's hard to pass on them, whether it's 6am or 6pm. Use the base as a vessel for your favourite toppings: cured meats, cherry tomatoes, grilled veggies or…more cheese, why not!
Find the recipe here
Savoury crepes
A sophisticated French dish that is surprisingly easy to put together. Similar to waffles, crepes are a blank canvas when it comes to fillings – from seafood to mushrooms, the combinations are endless. Best served with a generous heaping of your favourite cheese.
Find the recipe here
Potato tortilla
If you're a fan of one pan recipes, this potato tortilla will be right up your alley. It requires minimal prep and only 5 ingredients but it carries all the flavours and charm of the classic Spanish dish. If any leftovers make it to the next day, this is a great on-the-go breakfast!
Find the recipe here
5-Minute Chilli Oil Fried Eggs
Adding Crunchy Chilli Oil to sunny side up eggs instantly takes them from a humble protein to the undisputed star of the show. Serve them over rice and with a side of steamed greens.
Find the recipe here
Everything Bagels
Making bagels from scratch may be more of a weekend project. Nonetheless,  the positive thing of having these for dinner is that you won't have to wake up at 5am on a Saturday morning to have them ready by breakfast! Instead, you can leisurely prepare them in the afternoon, bake them just before dinner, and enjoy them warm slathered in butter. It's a no brainer.
Find the recipe here
Mini Vegetable Frittatas
The best thing about frittata is that it tastes better the day after making it, which is why this recipe is great for the busy cooks out there who are short on time but don't want to miss out on flavour and quality with their meals. You can prep and bake your frittata ahead and store it in the fridge for up to 4 days, then warm it up in the microwave or oven just before dinner.
Find the recipe here
Shakshuka
Healthy and wholesome, shakshuka is one of those dishes that offers many adaptations along with a great opportunity to sneak in more veggies in your meal. Serve it with crusty bread and a dollop of thick, natural yoghurt for a dish that ticks all the right boxes.
Find the recipe here
Bratkartoffel Farmers Breakfast
Similar to a potato tortilla, this German farmers breakfast is a hearty dish that will keep you full for hours. It includes crispy potatoes, sausages, eggs and is perfect served on its own on a chilly night. This is comfort food at its finest!
Find the recipe here
Asparagus with Soft Boiled Eggs & Dukkah
This recipe takes breakfast food to fine dining status with its jammy eggs, vibrant asparagus and the unmistakeable roastiness of the Egyptian Dukkah. Fresh herbs seal the deal with their delicate notes. Simple, but oh-so-impressive.
Find the recipe here
Sticky Chai French Toast with Blistered Figs
There is something so decadent about having a sweet breakfast dish for dinner and if we had to pick out a favourite, it would definitely be the Sticky Chai French Toast with Blistered Figs. If you don't have figs, use any fruit that is in season. It'll taste divine regardless.
Find the recipe here