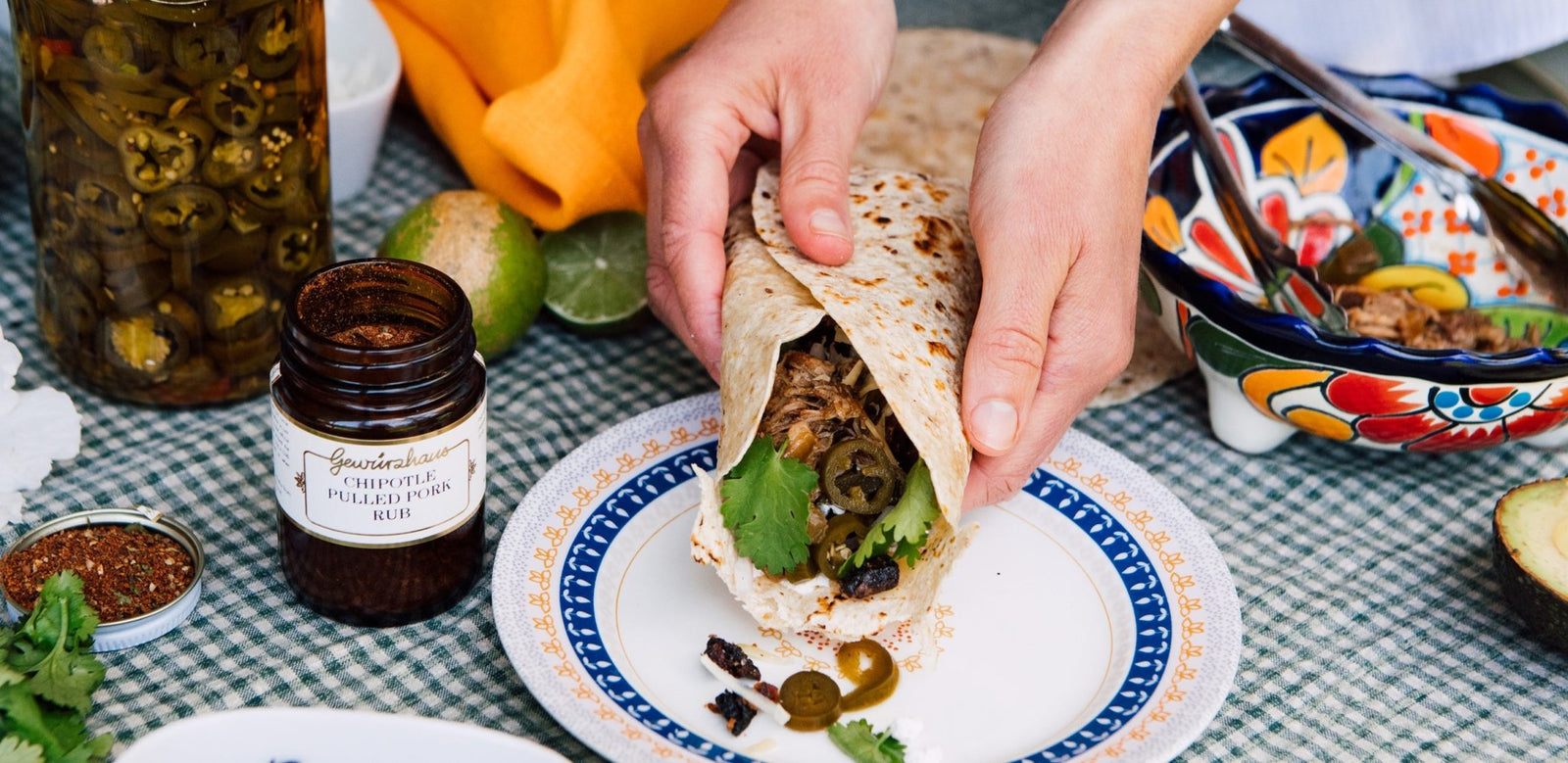 A Guide to Burritos
There's no strict science to the art of the burrito but making burritos is a wonderful cooking skill to master. A burrito is a delicious Mexican staple, with humble beginnings, and has travelled from its likely origins in Mexico to all parts of the world. The versatility of the burrito may change with its filling, whether it be chicken, pulled pork or beef, but at its core, it remains the same across its many versions.
Who invented the burrito?
The word burrito literally means little donkey in Spanish! A "burro" is a donkey, and the diminutive form "burrito" means "little donkey!" Legend has it that Juan Mendez, a street vendor from Chihuahua in Mexico, used a donkey to carry around his supplies for his food cart. To keep the food warm, he would wrap it up in a large flour tortilla. These wrapped-food parcels actually refer to Juan's much-loved donkey who helped him deliver them. These burritos were small and lightly packed with meat and other ingredients.
What goes into a burrito?
Traditionally, the ingredients used for a burrito include flour-based tortillas, a meat filling, (refried) beans and a salsa or hot sauce. That is, if you're interested in sticking to an authentic burrito recipe. But there's no strict list of ingredients you need to include in a burrito. You can bring in some non-traditional elements. Some common ones are cheese, sour cream, guacamole, rice, chilli peppers and other vegetables. Our version for example, includes guacamole, red onion, cheddar and Danish feta cheese, pickled jalapeños, and fresh coriander.
So, what is the difference between a burrito and a taco?
In terms of the filling, there's not much difference. The main difference between a taco and a burrito is the quantity you can consume, and size of the dish. Tacos tend to be small, so you can usually make up several to satisfy you at mealtimes. Traditional tacos "shells" are made from corn masa flour with a tortilla press. Whereas, a burrito wrap is made out of one large wheat tortilla. Depending on the size, a single burrito is usually the equivalent of a meal serving. There are also other variations to the burrito and tacos, too: fajitas, quesadillas, enchiladas, and tostadas – all various ways to serve and enjoy similar Mexican fillings.
How to wrap a burrito:
The most important thing to keep in mind when it comes to making burritos is to add the right amount of filling. You need to be able to wrap it tightly and keep the filling inside without tearing or ripping the wrap. Of course, it can get messy once you begin eating – but that's all part of the experience! Though wrapping a burrito can be pretty tricky at the start, it's a skill worth mastering. It's also a fun and tasty activity to involve the kids in.
Warm the wraps for a few seconds each side in a pan or in the microwave.

Lay the warm tortilla over a cutting board, add a spoonful of your main filling – it could be Chipotle Pulled Pork, chicken, or beans. Make sure not to add too much filling as you want to be able to fold it without the burrito wrap tearing.

Add any extra fillings you may like on top such as pico de gallo, guacamole, grated cheese, red onion, coriander or jalapeños.

Fold the edges from each side, just enough to avoid the filling from coming out through the edges.

Then start rolling your burrito tightly from bottom to top making sure you keep the side edges tucked in.

Cut in half and enjoy!
If you want to take it even further, you can sear the seam of a burrito to seal it tight. This is ideal if you're planning on making it now and enjoying it later. Make sure to wrap it up in aluminium foil to keep heat sealed before you eat it (remember to take off the foil before you microwave it).
Have a go with our delicious Chipotle Pulled Pork Burrito.
Does rice belong in a burrito?
If you're looking for an authentic burrito experience, you will want to omit the rice. While rice is very common in burritos and can be delicious, traditional burritos are small, need to be packed tightly, and served thin. An authentic burrito is made with a warm (or toasted) flour tortilla with just enough filling so it can be rolled tightly.
Are refried beans really refried?
Refried beans are a traditional staple of Mexican cuisine. While commonly made using pinto beans, refried beans are made with black or kidney beans in different regions of Mexico. Despite the name, they haven't been fried twice: they're simply beans that have been cooked and then mashed. The term comes from the translation of the Spanish name for the dish – frijoles refritos. In Spanish, "refritos" means "well-fried." Try this healthy side alongside any Mexican meal. You can eat refried beans with tortilla chips as a dip or add these protein-rich, refried beans inside tacos, enchiladas and burritos. Spread them on the inside of a quesadilla or on top of a tostada.
That's what you need to know about burritos
The best part of a burrito is its versatility: you can make the tortilla bigger or small to suit your taste, you can fill it with a variety of fillings, you can add heat with chillies or keep it mild. As they can contain so many ingredients, making a burrito is a little bit of a task. But the end result is worthwhile: enjoying a burrito is easy!