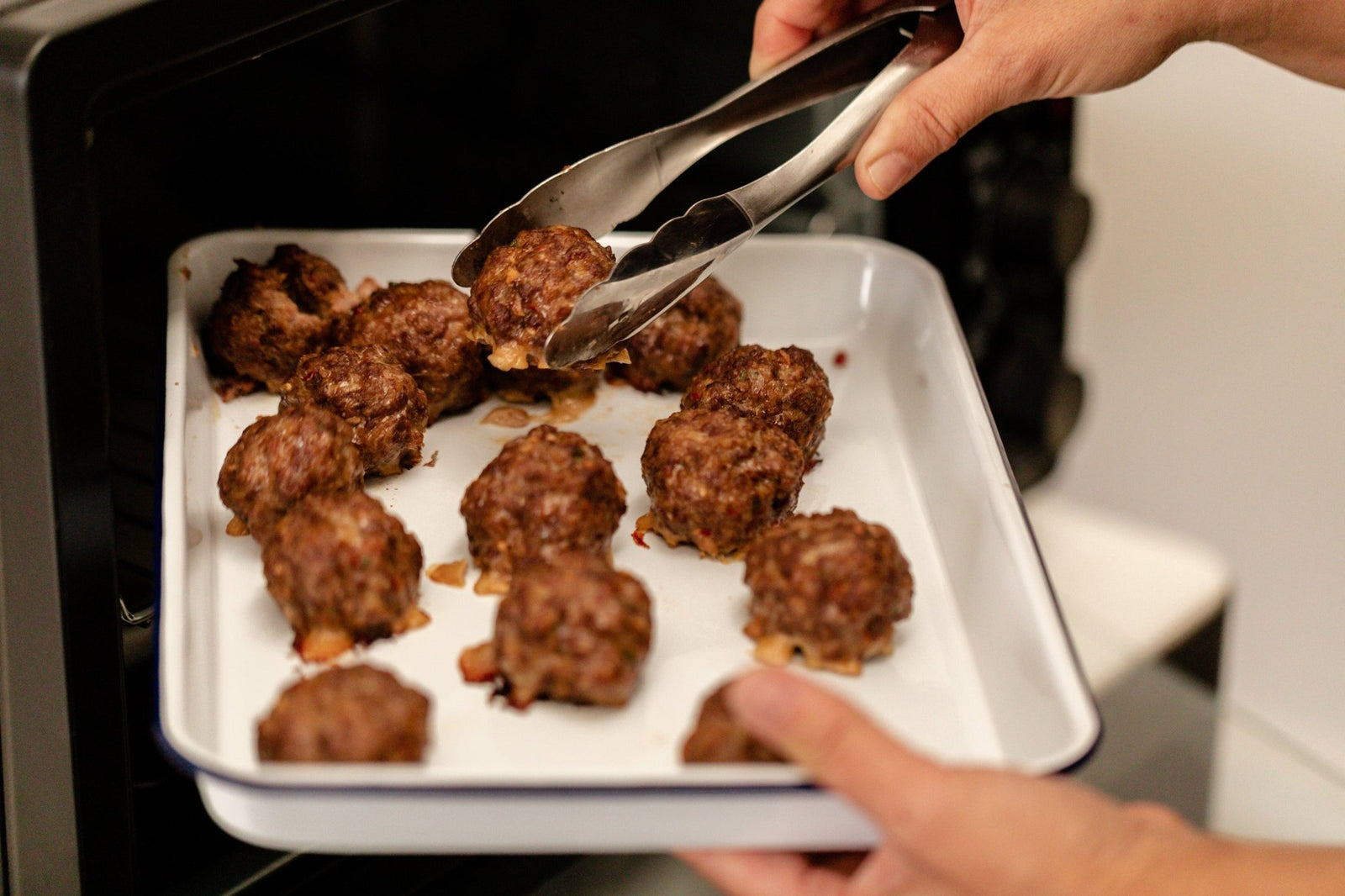 How to: Make meatballs 4 ways – fry, braise, boil or bake
You have made your perfect-tasting meatball mixture – a balance of delicious flavour, texture and rich meatiness. But what's next? There are a variety of methods to cook meatballs, all with their particular strengths and weaknesses. There is no right or wrong way; try them all and see what works best for you. 
Braising 
Cooking your meatballs in a sauce is a sure-fire way to keep them moist and succulent – one of the reasons why dishes like Spaghetti and Meatballs is a classic family favourite. For the best result, seal them on all sides in a pan first before plopping them into your sauce; this will ensure they don't fall apart as they cook. Cover the pot with a lid to prevent unnecessary spattering on your cooktop and stir occasionally. 
While braising in sauce provides another layer of flavour and locks in moisture, it is the most involved method of cooking meatballs, with the sauce requiring its own separate preparation. If you are looking to spend some quality time in the kitchen, then this might be the method for you. However, if you're time-poor, then frying or baking is the way to go. 
Frying  
Frying your meatballs over a medium heat is by far the quickest way to get dinner on the table, and prep time can be cut down further with the use of Gewürzhaus' Mama's Meatball Blend. Using oil or lard to fry your meatballs in a pan or skillet will seal the outer layer, creating a delicious and crunchy outer crust, while keeping the meat tender on the inside. 
Fried meatballs can overcook or burn if left unattended. Start them in a preheated pan, turning regularly; once they are seared, turn the heat down and finish them low and slow.  
When frying meatballs, remember to place them into the hot oil as gently as possible, being mindful of oil spitting out of the pan. Use a spatter guard if you have one.  
Make sure not to overcrowd the pan, leaving space between each meatball when frying. Overcrowding can prevent the meat from browning properly, so it's best to work in smaller batches rather than trying to squeeze them all into the pan at one time.  
Baking 
Baking will result in meatballs with a crunchy exterior, though the caramelisation achieved from frying will be superior. Baked meatballs take the least amount of effort, as you'll only need to turn them once or twice throughout the cook and you can make a larger batch at once. Our Spanish Meatball (Albondigas) Tray Bake is a great place to start. 
Although you don't have to monitor baked meatballs as closely as their fried cousins, it's still important to check and make sure that they don't overcook. Use an oven temperature of 180℃ fan forced. The time for the cook will vary depending on the size of your meatballs – if they are smaller, walnut-sized morsels, turn them after around 10 minutes and check if they are cooked after roughly another 5 minutes. The larger they are, the more time they will require, so use this principle and scale up as necessary. 
For something different, try baking your meatballs on a bed of vegetables with a touch of oil on top. This ensures that the meatballs are cooking in enough moisture and don't dry out in the oven, plus you're cooking your side dish at the same time! 
Boiling 
Simmering meatballs in soup is an entirely delicious method, as the flavours of the meat will be released directly into the broth, adding depth of flavour to the whole meal. Texture-wise, you will lose the crunchy exterior, but boiled meatballs remain juicy and are much more delicate and subtle, perfect for a hearty and nourishing winter meal. This method is especially suitable to chicken or poultry mince, like in our Chicken Noodle Soup with Meatballs, but any meat and broth base could be used.