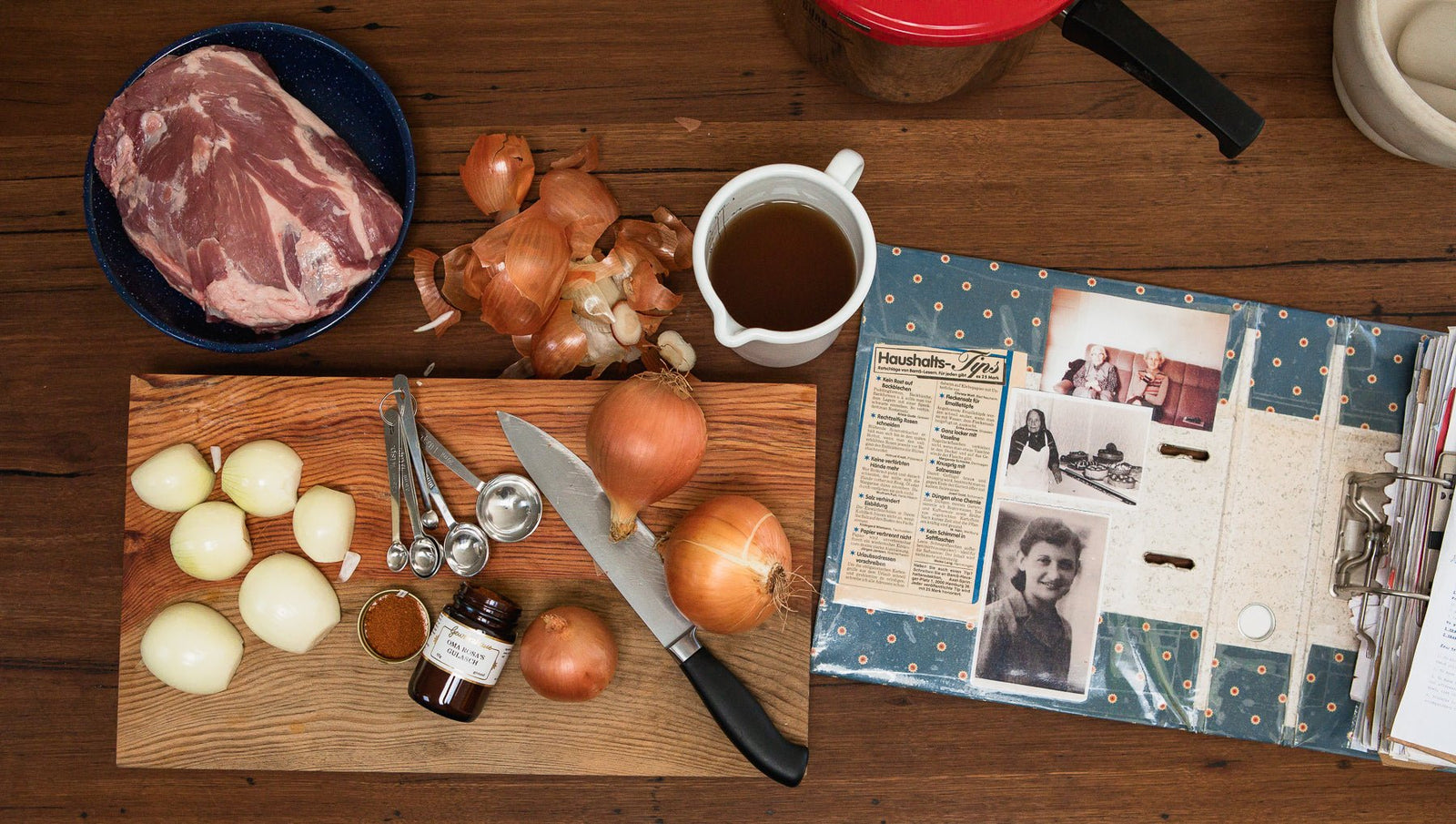 Recipes From Our Family
Some recipes are more than meals: they're steeped in family tradition and they're passed through generations. Welcome to Recipes from our Family, where we've asked some of our Spice Merchants to share their family stories and recipes with you. Below are stories from across the globe: Germany, China, Iran, Greece and more.
May they inspire you to pull out your family's recipe books and indulge in blissful cooking at home in the most authentic way.
Maria & Eva
Gewürzhaus co-founders and sisters, Maria and Eva, share their German heritage with us through their Oma Rosa's Hungarian recipe for Gulasch, served with Silesian Potato Dumplings and Sauerkraut. Maria and Eva share their respective memories and stories from each of these wonderful meals and what made them keep cooking these over and over again.
Sauerkraut
Maria: "Sauerkraut is not only a German birthright, it's also a heavy-hitting super food. Whether you are German or not, making your own sauerkraut in small batches at home is a satisfying and engaging process." Make sure to read our blog for tricks and tips on how to make sauerkraut.
Oma Rosa's Gulasch
Maria & Eva: "Our great-grandmother Rosa taught us how to make this traditional Hungarian gulyás. Gulasch was on heavy rotation in the little apartment she shared with our grandmother and filled bellies in the depths of winter."
Silesian Potato Dumplings
Maria: "Our grandmother came from the city of Bytom in Silesia (now a historical region of Central Europe, made up of parts Poland, Czech Republic and Germany), where these easy-to-make, sauce-retaining dumplings are standard fare. Unlike the more standard half and half German dumplings, Silesian Potato Dumplings are made with minimal fuss and using only three ingredients. They are sticky and almost gummy-like, delicious with a rich gravy, such as the one from Gulasch. Although we never met our grandmother on our mother's side, making these dumplings connects us back to our ancestors and their traditions."
Marmorkuchen (Chocolate Marble Cake)
Eva: "Our mum makes Marmorkuchen, this traditional German cake, for birthdays. As kids, we used to help as it is quite simple to make and the dual-coloured dough is fun to swirl at the end. Often, the chocolate glazing is substituted by a simple sprinkle of icing sugar."
Davina
Spice Merchant Davina shares her recipe for Cantonese Roast Duck, a dish that evokes happy childhood memories and is always served at family celebrations.
Cantonese Roast Duck
Not to be confused with Peking Duck, which is traditionally sliced and served in pancakes, Cantonese Roast Duck is usually served whole, as you'd serve a roasted chicken. Cantonese ducks are stuffed with aromatics and marinades, thus the succulent and tasty meat. Cantonese Roast Duck does take a few hours to prep and roast but well worth the extra time and effort. The crackling crisp skin comes from air-drying the duck prior to roasting. The moist and juicy meat comes from the marinade that is poured into the cavity and sewn in with a needle and string to prevent leakage.
Cantonese Roast Duck Bao
Serve the delicious duck with the Cantonese Roast Duck Bao, made with Chinese Steamed Bao.
Jessica
Spice Merchant Jess shares her family recipes for Soutzoukakia and Galaktoboureko, both inspired by her two grandmothers and rich Greek heritage.
Soutzoukakia (Spiced Kofta)
Jess: "Historically Soutzoukakia are made by Greek families who have roots in what was once a Greek city in mainland Turkey named Smyrni (modern day Izmir). Spices such as cumin and allspice (which are not so common in everyday Greek cuisine) reveal the Turkish influence. My late paternal Yiayia Maritsa was born in Smyrni in 1922 and fled as a baby to the nearby Greek island of Lesvos as the Turkish rulers at the time were forcibly banishing and expelling Greeks from the city of Smyrni. The Greek refugees took the culinary influence of spices and particular recipes with them and passed down these recipes through the family. So the recipe for Soutzoukakia is a tribute to my beloved Yiayia."
Galaktoboureko
Jess: "Traditionally, Galaktoboureko is a vanilla-infused semolina custard baked into golden layers of crisp filo pastry, drizzled with a cinnamon & lemon infused syrup. The recipe says it serves 6-8 but it could feed a village depending on the size you cut your serves. Greek cooking is about generosity and the greatest shame a Greek home cook could endure is if there is not enough food to go around! This is my go-to dessert if I am hosting friends and family over."
Atefeh
Spice Merchant Atefeh shares her family recipe for Persian Lamb Shanks with Baghali Polo, a traditional rice dish with dill, broad beans and saffron.
Persian Lamb Shanks
Braised and bathed in a fragrant broth, this recipe for traditional, slow-cooked Persian Lamb Shanks celebrates the vibrant flavours of Persian food.
Baghali Polo
Atefeh: "The Baghali Polo is a staple of Iranian cuisine and every family has their own recipe. It is a fragrant and fluffy rice dish that pairs the pleasant flavours of dill, basmati rice and saffron with plump soft broad beans. All topped with a delightful crunchy golden crust. Makes the perfect accompaniment to stews and sauces. This is my grandmother's recipe and she still makes it regularly for her children and when friends visit. Everyone loves it."
From our Spice Merchants
We hope these stories help you remember your own family recipes. Should you feel inspired, come share your family recipes and stories with us in our Community Group. We would love to hear them.