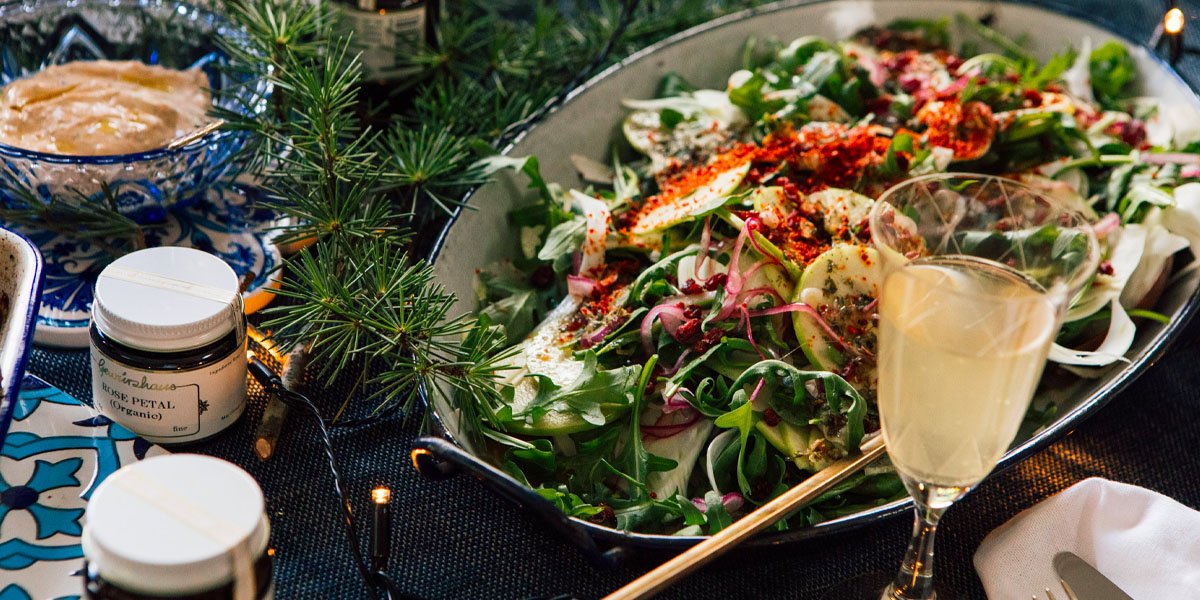 A Thanksgiving Menu
Maria Konecsny
Thanksgiving, though often thought of as an American tradition, is celebrated in many cultures around the world in different forms including Erntedankfest in Germany. It has its roots in giving thanks to Mother Earth for the main harvest of the year. Autumn marks the time when a lot of vegetables are harvested for storage to get a family through the cold winter months – think potatoes, pumpkins, onions, cabbages.
It's also the time when the main crops of tomatoes, capsicum, lettuces, beans and many other vegetables have been harvested, the plants are coming to the ends of their life cycle and the hard work of preserving and storing away has been done. An occasion to mark.
Our family comes together every year for Thanksgiving. We share a beautiful meal together in the garden, but before we start, we go around the table and we each, young and old, give thanks for the year gone past in our own special way. Some of us give thanks for the food we are about to eat, others give thanks for their pets or the new LEGO they received for their recent birthday; we all give thanks for each other and for being able to come together on this one day, every year, to do something as simple as take a moment to give thanks.
And to you, our customers and supporters, we give a big thanks this year in particular. Thank you for your patronage, thank you for continuing to cook and nourish your families with our spices, thank you for sharing the many beautiful dishes you have put on your tables. Happy Thanksgiving to you and your families!
To start:
Spiced Yogurt Flatbread
Spiced Yoghurt Flatbread is delicious – made using yoghurt and flour, with za'atar, and in only 20 minutes, too!
Cashew, Sweet Potato and Harissa Dip
Hummus with Smoky Almond Dukkah
The Main Event:
Tender Fennel Roast Pork with Ultimate Crackling
Harissa Roast Potatoes  Fennel, Apple, Red Onion and Aleppo Pepper Salad
Honey Roasted Rainbow Carrots with French Lavender Salt
Fig & Rose Harissa Chutney 
To Finish:
American Pumpkin Pie
Persian Love Cake
Once upon a time there was a Persian woman madly in love with a prince. To make him fall in love with her, she baked him this cake, filled with magical love powers. Or, so the legend goes. With hints of cardamom, pistachio, and orange, this Persian Love Cake wins our heart every time. It's a lovely finish to a Thanksgiving feast, and it's so easy to make.