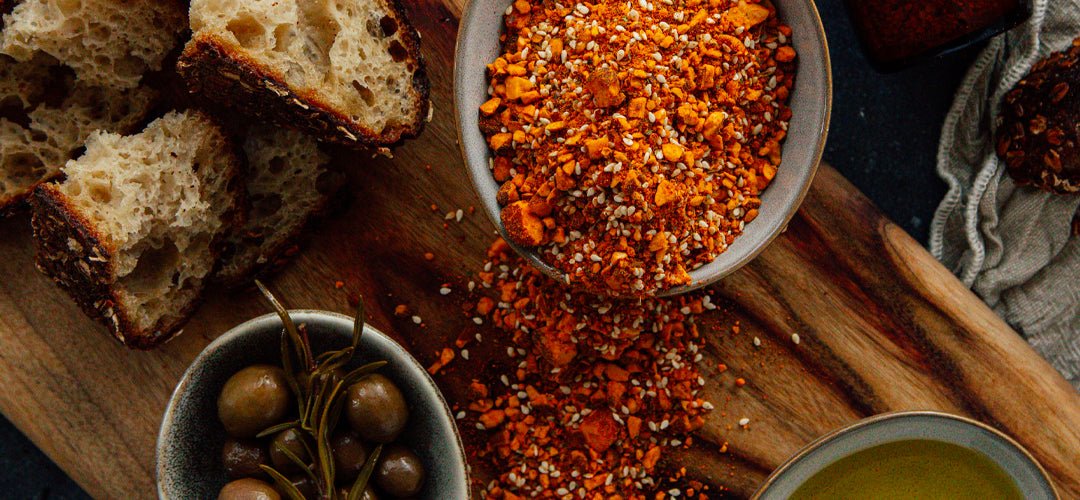 15 Ideas for using Dukkah at Home
Dukkah adds great flavour and texture to so many simple dishes and foods. If you're feeling keen, then learn how to make your own dukkah, or try our spice mixes – Egyptian Dukkah or Smoky Almond Dukkah. In the meantime, here's a round-up of 15 ideas for using dukkah.
1. Sprinkle dukkah on hummus
Sprinkle some dukkah over your favourite hummus — or make your own! Our Hummus recipe is a tad nutty, with a chickpea base and enjoyed with a glug of extra virgin olive oil. Enjoy as a dip with toasted flatbread or pair it with Falafel Pitas.
2. Enjoy a dukkah-crusted falafel pita
This Dukkah Crusted Falafel Pita recipe will change the way you enjoy pitas. Involving a healthy dose of dukkah, this healthy pita is enjoyed filled with hummus, falafel and topped with an assortment of your favourite salad additions.
3. As a dry dip with cucumber
Enjoyed simply as it is with a healthy snack of cucumbers.
4. Add crunch to your fattoush
Our Smoky Almond Dukkah Fattoush is a homage to the bright, assertive and refreshing salad mix. Featuring our very own Smoky Almond Dukkah and sumac, this fattoush recipe is a delight to devour on its own or ready to be served up with grilled chicken or steak.
5. Served alongside Ottolenghi's Butter Bean Dip
Our love of Ottolenghi knows no bounds – so we're sharing this recipe for Butter Bean Dip with Dukkah. It comes in two parts: you can make both the bean dip and the dukkah yourself, or simply enjoy your homemade bean dip with our dukkah. It will make you love dukkah. As he says in his own words: "I promise you, it can easily turn into a favourite. "
6. Smashed avocado on toast with a squeeze of lime juice
A tasty serving suggestion that will add that level of crunch to your breakfast spread.
7. Coat roasted cauliflower with dukkah
Whether you're whole-roasting your cauliflower or splitting it up into bite-sized morsels, coating the top of of it with dukkah (mixed with an olive oil) will add a burst of flavour. It's an excellent addition to a protein-heavy dinner or even enjoyed as a healthy snack.
8. Include a healthy pinch of dukkah in a sandwich
Dukkah can transform any sandwich into something else altogether. Try it with an egg sandwich, heaped with plenty of rocket leaves.
9. Top grilled eggplant with dukkah
A flavour-packed, dynamic duo: soft eggplant with crunchy dukkah. Our Whole Grilled Eggplant recipe will be enjoyed by many vegetarians and vegan paletes, as well as a healthy side-dish alongside a meaty main.
10. Homemade labneh balls rolled in dukkah
Labneh and dukkah is a classic combination, designed to be enjoyed.
11. Sprinkle on poached eggs
Our recipe for Asparagus with Soft Boiled Eggs & Dukkah makes for a wonderful breakfast dish, especially when served with crispy bacon or chorizo.
12. Serve up a dukkah crusted salmon with couscous
Crusting your salmon with dukkah and serving it on a bed of couscous? Delish. Our recipe for Dukkah Crusted Salmon is what you're looking for. When you're finishing up, don't forget to put together the zingy dressing: a mix of mayonnaise and lemon. It'll be the final touch to a fresh, healthy meal.
13. Coated on lamb rack with red wine jus
It might involve a little more work, but you'll reap the rewards of your effort: the recipe Smoky Almond Dukkah Crusted Lamb Rack calls for half a cup of Smoky Almond Dukkah for two lamb racks. This tender, hearty meal will be the heart of the feast.
14. In homemade seed and dukkah crackers
Dukkah can be a key ingredient in your own homemade seed crackers.
15. Dip your bread in dukkah
And of course, no dukkah list would be complete without the classic suggestion of dipping hunks of crusty bread in extra virgin olive oil and rolling them in dukkah!