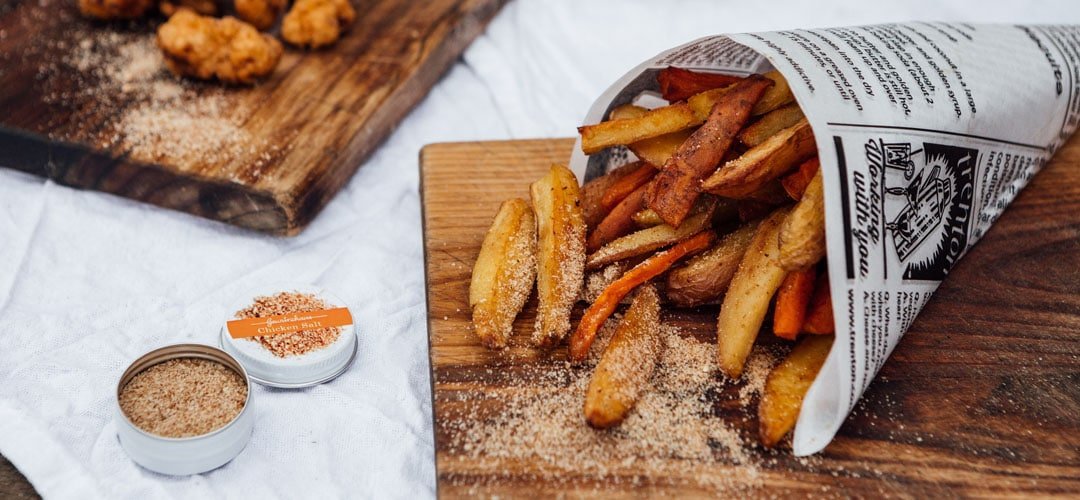 Australian Chicken Salt – How We Reinvented a Classic
No MSG, 100% natural ingredients! For many Australians, Chicken Salt conjures up all sorts of nostalgic childhood memories…until we got old enough to realise it was packed full of MSG, artificial flavours and who knows what else. We had to admit: hot chips just weren't the same without Chicken Salt. So we set about on a mission to find a better way to do it and reinvented Chicken Salt, one we're happy to feed our family at home.
What is Chicken Salt?
Chicken Salt has been around since the 1970's when it was invented as a seasoning for roast chicken and then found its way into just about every fish and chip shop in Australia as the fries seasoning of choice. Packed with explosive and addictive umami, Chicken Salt has hints of sweet, salty, sour, garlic and onion and in the right amount, is utterly delightful! After months in development and dozens of different spice combinations in our search for the perfect umami punch, we landed on a MSG-free, all-natural Australian Chicken Salt with no compromises on flavour.
What is in our Australian Chicken Salt?
In our Australian Chicken Salt, you'll find the following mix of ingredients:
Natural umami from toasted sesame and kelp.
Natural sweetness from unrefined and low GI coconut sugar
Victorian sea salt flakes
And some garlic and onion powder for good measure.
...and nothing else!
I'm vegan. Can I eat this Chicken Salt?
Absolutely, yes. Contrary to popular belief, there is no chicken in chicken salt, making it 100% vegan friendly.
What can I use Chicken Salt on?
Savoury with a hint of sweetness, it's no secret that this salt is perfect for hot chips or chicken, but here's some other ideas our team came up with.
Add Australian Chicken Salt to hot buttered popcorn, tempura fish, croutons for a Caesar salad or a root vegetable tart with carrot, parsnip and beetroot. Try it on celeriac mash or a purée, Polenta fries, roast carrot salad with fresh spinach, ricotta and pine nuts, or oven baked super thin parsnip chips. Enjoy it sprinkled over popcorn cauliflower, roasted vegetable gratin, kale chips, corn on the cob or potato salad with hard boiled eggs.
Or if you're feeling really creative, use it to rim a cocktail glass for your next Bloody Mary!