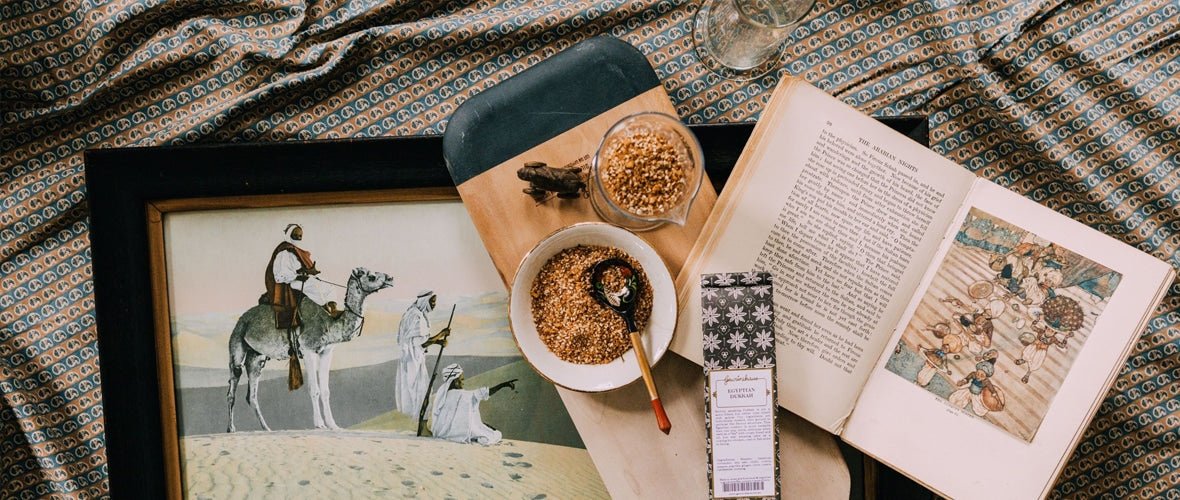 How To: Make Your Own Dukkah
According to Claudia Roden, author of the classic A Book of Middle Eastern Food, "the spices in (dukkah) are cumin, coriander, sesame seeds, and hazelnuts. In Egypt, people have their own personal mixes". And so you should, too.
Of course, you can also use one, or both), of our two dukkah blends: Egyptian Dukkah and Australian Macadamia Dukkah.
How to make Egyptian Dukkah
Here's our base recipe for making an authentic, Egyptian-style dukkah. Master this one, then play around with different flavours to make it your very own. See our tips and tricks below.
Serves 4.
Ingredients
⅓ cup sesame seed
¼ cup raw hazelnuts
¼ cup coriander seed
2 tsp Saudi Baharat spice blend
sea salt, to taste
Method
Follow the steps below to making your own homemade Egyptian Dukkah, and check out the tips below to make it taste excellent.
Preheat your oven to 180°C (conventional not fan-forced).
Roast the sesame seeds, hazelnuts and coriander seeds separately in a large baking tray for 5 to 10 minutes each. Check regularly and give your nuts/spices a flip in their tray to roast evenly.
Let cool.
Rub the hazelnuts together in your hands to remove the skins.
In a mortar and pestle, crush the sesame, hazelnuts and coriander seeds to a medium coarse consistency similar to crushed pepper. Separately gives better results, but together is perfectly fine also.
Mix in the salt and Baharat spice to taste.
Tips & tricks
Always dry roast your nuts and spices without oil. Dry roasting will release the volatile oils in both the nuts and spices to give you that beautiful dukkah aroma;

Set yourself a timer! Too many times have spices and nuts been over roasted because we get distracted. Setting a timer means you can forget and get on with other things whilst your ingredients roast.

Cool off before you seal off. Putting your freshly made dukkah in an airtight vessel before it has fully cooled will result in the steam softening your dukkah. It will also form mould much easier if it is not fully cooled before storing.
Try these ingredients...
Swap out some or all of the hazelnuts for pistachios, almonds and macadamias;

Make it a sweet Christmas dukkah by swapping out the sea salt and the Baharat spice mix for 1 teaspoon of St Nicholas Spekulaas;

Add some chilli flakes to give your dukkah some heat;

Make a kid-friendly, yoghurt-topping dukkah for the family using almonds, sesame seeds, cashews and cinnamon.