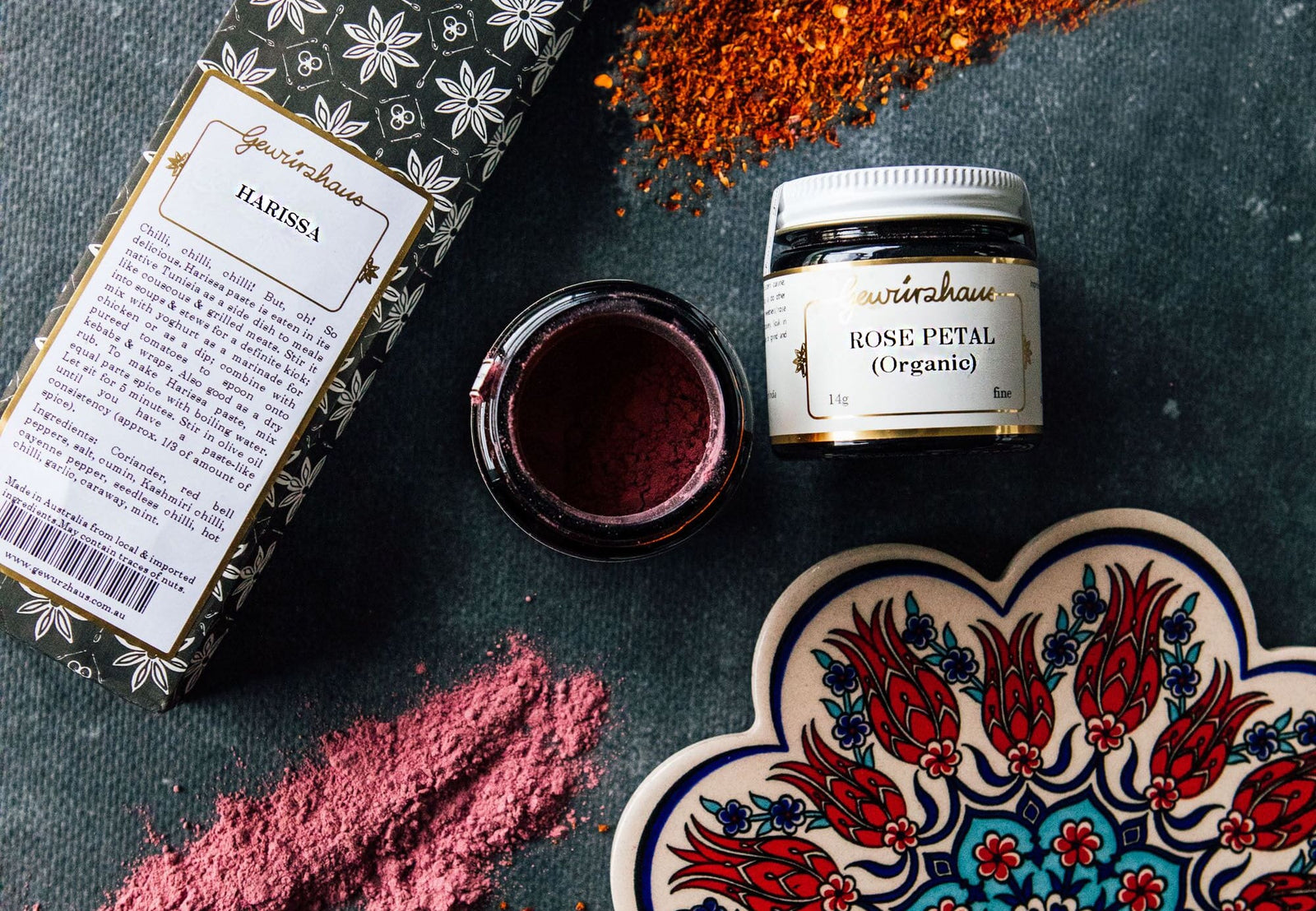 Rose Harissa Three Ways
If you're interested in expanding your Middle Eastern culinary tastes, harissa is a great place to start. Fragrant and fiery, harissa is a spice that comes in either a paste or a powder. It pairs well with meats, as a side dish or as a central ingredient in other condiments and spreads.
Where does harissa come from?
Harissa is a spice, originating from Tunisia in Sicily and composed of red chilli peppers (often Baklouti peppers), as well as coriander, cayenne pepper, garlic, cumin, and then made into a paste using olive oil and an acid. Harissa paste is consumed in its native Tunisia as a side dish to accompany cous cous and grilled meats, but it is used in soup, stews, dips or even as a marinade or dry rub.
The main peppers used in harissa are quite hot, too: Baklouti peppers come from the Cap Bon peninsula, which are hotter than Aleppo Peppers (over 40,000 on the Scoville scale, as opposed to Aleppo pepper's 10,000).
What is the difference between harissa and rose harissa?
Rose harissa is harissa plus rosewater (or rose petals): the rose petal powder or rosewater are used to soften the heat in the harissa, adding a subtle fragrant, floral note to balance the spicy heat generated by the harissa. Rose powder is used extensively in Middle Eastern cuisine and was made popular in Australia by chef Yotam Ottolenghi with his beautiful recipe.
We've paired harissa with rose petal powder to create a Rose Harissa flavour combination, where the rose powder softens the strength of the chilli peppers in the harissa.
Three ways to enjoy harissa
Here are our favourite ideas for this perfectly fragrant and fiery blend.
1. Make Some Rose Harissa Paste
Versatile and easy to use, this paste is a great standby paste to have up your sleeve. Try in yoghurt and Fig & Rose Harissa Chutney.
2. Pair It With Yoghurt
Serve yoghurt alongside our Tender Fennel Roast Pork or excellent as a dip with chopped raw vegetables.
3. Use It in a Chutney
Fig & Rose Harissa Chutney makes a beautiful gift and will keep in the fridge for several months if packed tightly into a small jar and sealed. Serve with Tender Fennel Roast Pork, a cheese platter or on a filled baguette.
Find more inspiration with harissa
Find harissa in our Middle-Eastern inspired Thanksgiving feast menu with some other tasty suggestions.