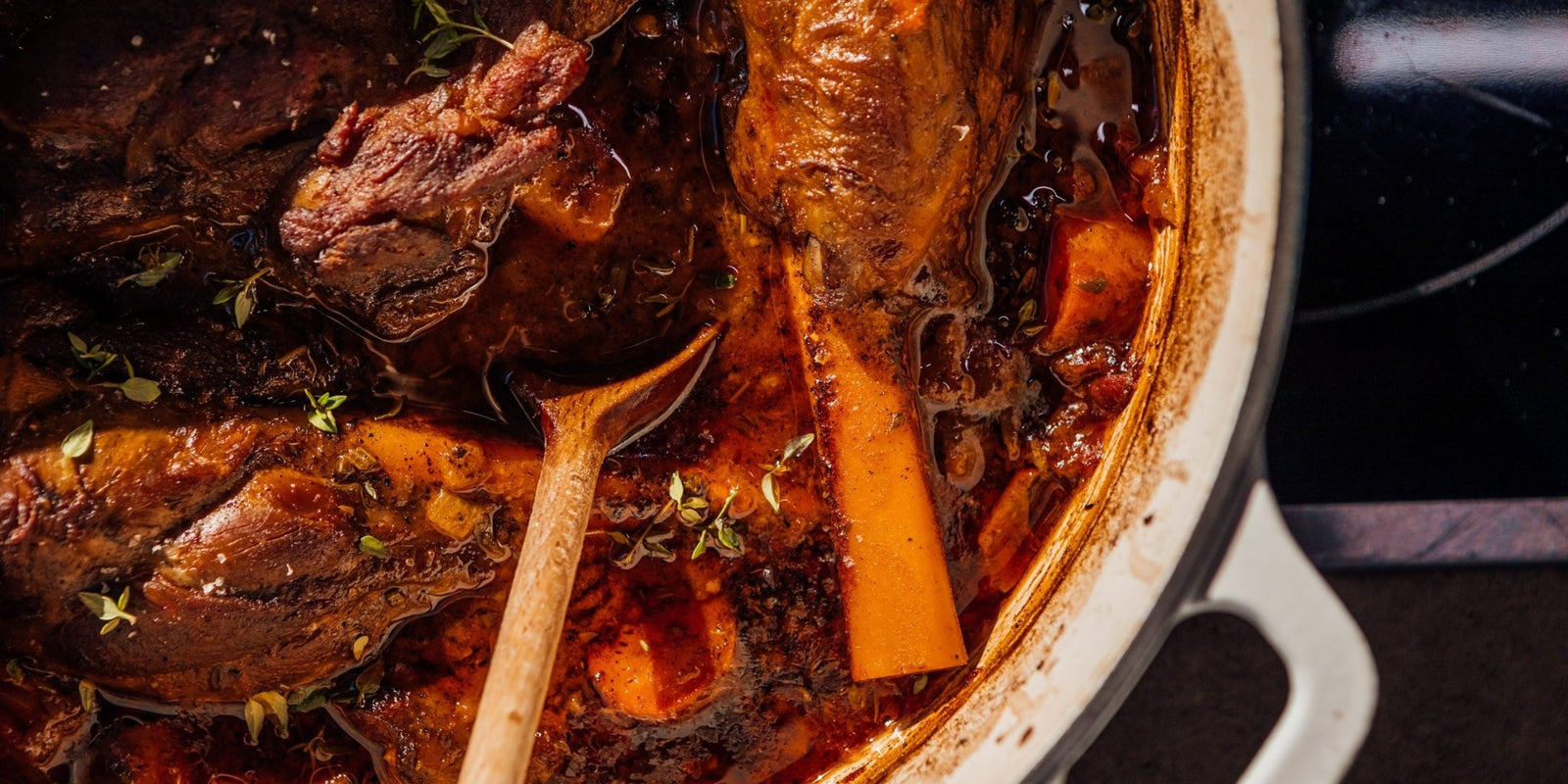 10 Midweek Dinner Marvels
We know you feel good after putting together a family feast, with mains, several sides and a dessert to finish it off. But that feast is not always a reality when we come up against long days at work or school, and have a family to feed. It's ok – you're only human.
Focusing on weeknight dinners doesn't need to be trial though. Below you'll find a medley of marvellous meal ideas – from those you can make and eat within the hour to those you can prep in advance and then eat once you're finished for the day.
Peppered throughout, you will find a few of our spice merchants' suggestions, too! Made using our spice blends, their ideas are designed to help you experiment with your spices. This way, you can look to the spice pantry for building flavourful meals on a regular, weeknight basis without the added stress.
If you enjoy these and want more recommendations from the lovely Gewürzhaus spice merchants, look no further than the Staff Favourites Spice Kit.
Slow Cooked Lamb Shanks
Lamb shanks: generally inexpensive meat cuts that taste divine when slow-cooked. While it may require some time in the slow cooker, Slow Cooked Lamb Shanks is a meal to set and forget, and then remember when you get back home in the evening. It's a one-pot wonder, too, and will leave you with leftovers for the next few days.
Heartwarming Dahl
Lana from Gewürzhaus Adelaide Central Market suggests heartwarming dahl. For this, you can blend whatever single-origin spices you may have on hand, or try it with South Indian Seafood Masala or Malay Satay – a mix will make it a one-stop-shop!
"Bring some red lentils to a boil in a large pot then turn the heat down to a simmer. Heat some ghee (or coconut oil) in a pan and add some turmeric and fresh ginger. Once fragrant, pour into the lentils. Heat some more oil in the pan, and this time, add curry leaves, mustard seeds, cumin seeds and a pinch of asafoetida and Kashmiri chilli. Once the seeds start popping, it's time to add some cut-up sweet potato and zucchini (although, you can add any combination of vegetables such as tomato, eggplant or cauliflower). Coat the vegetables in the spices, add some boiling water and simmer until the vegetables are tender for about 10 minutes. Tip these into the lentils and let it cook down for about 20 minutes, stirring occasionally. Once finished, add some garam masala, salt and freshly chopped coriander."
This makes a big pot enough for 8 people when served with rice or chapatti. Enjoy this dahl as the ultimate healing comfort food for many.
Chipotle Pulled Pork
Pulled pork is not just for weekends. You can make pulled pork any day of the week – there's no need to wait until the weekend anymore. It's a 15-minute prep process: put your pork shoulder in with our Chipotle Pulled Pork Rub, stock, onion and garlic, and then you let the slow cooker do the rest. Put it on in the morning before you leave for work, and return home to the smell of slow-cooked pulled pork. Follow our recipe, and then enjoy it with tacos or burritos.
The Nourish Bowl is a very nutritious way to pull together the elements of a Mexican feast into one bowl. Enjoy it with a family dinner, with leftovers to take for lunch the next day.
Tacos, Tex Mex-Style
Or, try something that can be made in 30-minutes: Tacos à la Jess from Head Office. She says "Fry off the onion until translucent, then add 500g of Chicken Mince and brown. Add 2-3 tablespoons of Tex Mex Taco Spice. Lower heat and add 1/2 cup of sour cream and stir to combine, gently heat through. Serve in crunchy taco shells with chilli sauce and toppings of choice – including but not limited to cheese, tomatoes, lettuce, coriander, or others of your choice."
To make sure you're not without the necessities of your own Taco Tuesday, keep your spice pantry stocked with Tex Mex Spice Kit. This fiesta-filled pack contains the ever-popular Chilli Con Carne, Guacamole Spice, Louisiana Cajun, and more spices to keep your cooking flavourful.
Minestrone Risotto
Rose from Gewürzhaus Strand Arcade started making a Minestrone Risotto with Maria's Pizza & Pasta Blend:
"Usually with whatever veggies I have on hand, with the usual onion and celery (or fennel), browned bacon or pancetta (or even pork and fennel Sausage), red wine, the spice and tinned cherry tomatoes. Then add the rice and stock. When the rice is almost done, I add zucchini and broccolini. Finish it off with peas, parmesan, and fresh thyme or oregano, then a drizzle of extra-virgin olive oil."
Try a Traybake
In need of a fuss-free, one-pot poultry dish to pop in the oven? Try the Moroccan Apricot Chicken Traybake. Made using Moroccan Souk Spice and a host of other spices and herbs, this traybake is a meal that you can make up in one pot, one tray before you serve it up. It may even make enough for leftovers.
Montana from Gewürzhaus Castle Towers loves a good traybake: "I love a good traybake with Greek Grilling Spice for a midweek meal. Think truss tomatoes, red onion, zucchini, red capsicum, a few cloves of garlic and chicken with vincotto."
Montana's other suggestions are equally quick to put together, with spices used to elevate an otherwise ordinary midweek meal. Try making a mac and cheese with Bratkartoffel Spice and pretzel cracker crust, or use Ras el Hanout to make a Moroccan-style lamb mince Shepherds' Pie with sweet potato avocado mash and dried currants. For something simpler, try a Za'atar crusted salmon with steamed broccolini.
Quick Butter Chicken
...it's in the name! Using Quick Butter Chicken Blend, make your own 30 Minute Butter Chicken. This recipe remains a favourite in many homes. For our plant-based friends, we have a recipe for Vegetarian Butter Chicken (which is also vegan).
Are you looking for more weeknight wonders?
We're all looking for weeknight wonders – something that's inspired but also nutritious, wholesome and delicious. But when you're tired and have a host of hungry mouths to feed, nothing beats the feeling of having a tasty dinner prepped quickly, with maybe just a pot to clean afterward. At the very least, these meals will have you inspired for the next few weeks.
If you have a spice blend-inspired recipe that you would like to share or a midweek marvel you sing the praises of, we'd love to hear about it. Visit our Cooking Community and make sure to share a photo alongside your recipe.