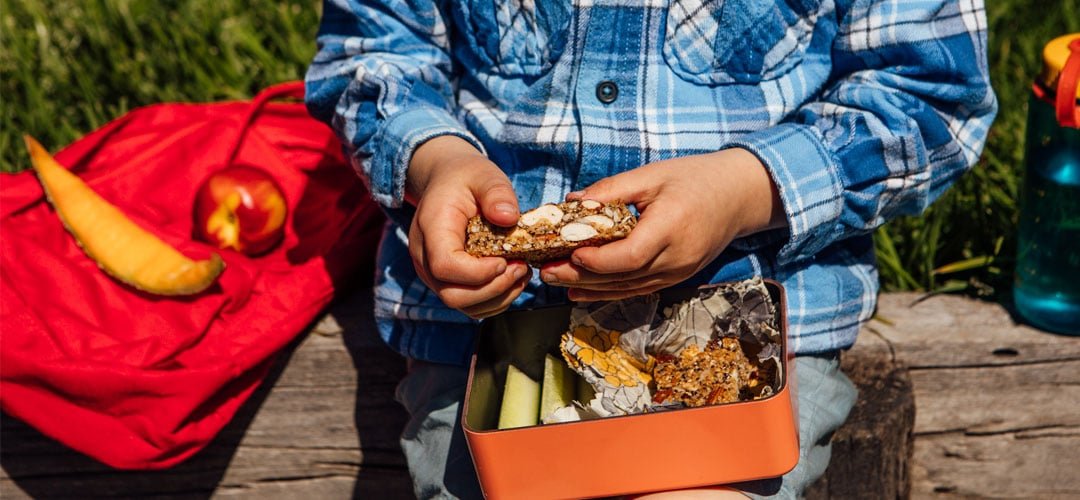 8 Simple Lunch Box Hacks
It's time to look forward to lunch with these easy lunch box ideas for both kids and adults. Get back into the swing of things with these 8 simple hacks for lunchtime, whether you're at the office or sending the kids back to the school.
Ditch the Pre-made Bars!
Ditch the plastic packaging and make your own No-Nasties Nut Bars! Try our grain-free, refined sugar-free, gluten-free recipe, packed full of flavour and crunch. These homemade Nut Bars are refreshingly free from the "nasties" of preservatives, as nut bars tend to be healthier when they're less processed. Cut them up into squares or rectangles for an easy lunchbox fits – these Nut Bars are a delicious and nutritious lunch box addition.
Frozen Fruity Treats
When it's still summer, freeze fruits like grapes, blueberries, diced mango, nectarine or peach wedges in advance for a refreshing, healthy treat. Pack the frozen fruit into a small container before putting into the lunchbox. Not only does this make for a fresh snack at lunch, it also acts as an icepack to keep the lunch box cold!
Make Double Batches and Freeze
Next time you're baking, double the ingredients and bake a double batch — take the second batch and freeze it. You'll thank yourself when lunchtime rolls around. And meal planning doesn't have to be too tricky, either. You just need to remember to take out the treats you baked – whether it be Sour Cherry Jam Drop Biscuits, muffins or Banana Bread – the night before for them to thaw before popping it into your lunchbox. These delicious Chocolate Chip Cookies freeze well and make a tasty treat.
Add Pocket-Sized Seasoning for Lunchtime Emergencies
No excuses for boring sandwiches or salads! Keep a Gewürzhaus Mini Tin of big flavour in your bag, lunchbox or top drawer for those moments when your meals just need a little bit more zing. Convenient in size and refillable, take this mini tin everywhere and anywhere to enjoy flavour on the go for meals and lunchbox snacks.
Try Reusable Pouches
Buy reusable yoghurt pouches and fill them with your own healthy yoghurt mix (try Greek yogurt with a sprinkle of Cardamom Pistachio Sugar). Make this Spiced Mango Lassi and freeze – it'll be defrosted and deliciously cool at lunchtime. Reusable pouches (or even tubs) are a waste-free and cheaper alternative to single-use items. You'll be making environmentally-friendly choices while eating a delish meal.
Dip It
Hummus with vegetable sticks (carrot and celery sticks can be prepared at the start of the week and kept in a sealed container in the fridge), cherry tomatoes or crackers is an easy and healthy snack that both kids and adults love. Sprinkle with a little Egyptian Dukkah for a twist or try some of these dip recipes to keep things interesting.
Cook Extra at Dinner
If you and your kids will happily tuck into a cold sausage or chicken drumstick, make sure to always prepare more when you have them at dinnertime. You can also throw in a leftover slice of pie or quiche (we love this Garlic Lovers Greens and Cheese Pie) or turn leftover Butter Chicken into these delicious little pies for a change to the usual sandwich. Our Mama's Everyday Meatballs are perfect for lunchboxes, and can be wrapped in lettuce cups for an easy to eat lunch. Read our Meatball Everyday Hacks for more inspiration.
Leftover pasta can make a quick pasta salad with canned corn, avocado chunks, tuna, or kidney beans. Put together this delicious Chimichurri Bean Bowl with Corn Salsa ahead of time for something a little bit special.
Say no to Single Use Plastics
Get environmentally friendly and say no to single-use plastics with Beeswax Wraps. Beeswax wraps are a sustainable and reusable alternative to cling wrap. They require no extra tools to get to work: the warmth of your hands softens the wrap to form over a bowl or a piece of food. As the wax wrap cools, it creates a seal and locks in to store food naturally. Just clean with mild soapy water, air dry and they're good to go again, and again and again, for up to two years. Plus, beeswax wraps come in fun colours to brighten up the day.
Reusable items are perfect for daily use. Insulated lunch bags are also a perfect way to keep food fresh, which are also fun and exciting to open.