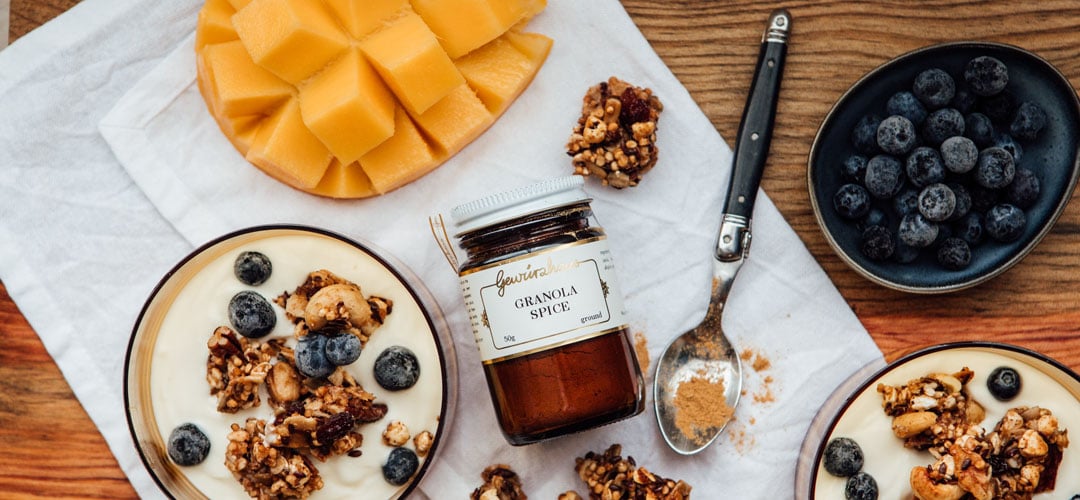 How To: Make Your Own Granola
So easy, quick and satisfying to make – once you've made a batch of your own granola, you won't go back to pre-packaged, which is often expensive, loaded with sugar and high in fats. With just one bowl and a few pantry staples, a basic granola can be whipped up. Once mastered get creative with your favourite dried fruit, nuts or spices to make it your own blend. There are lots of variations, but essentially granola is oats toasted with a little bit of sweetener, olive oil and sometimes with fruit and nuts. Best served with milk, yoghurt and fresh fruit or enjoyed by the handful as is for a tasty snack!
Tips and Tricks
Adding dried fruit lends some extra sweetness, chewy texture and delicious fruity flavour. Try cranberries, cherries, dates, raisins or chopped dried apricots.

Try adding coconut flakes halfway through cooking for perfectly toasted coconut.

Line the pan with baking paper or a silicone baking mat so the honey sticks to your oats rather than the pan.

Don't bake the granola too long, just until it's lightly golden on top. It might not seem like it's done yet, but it will continue to crisp up as it cools.

Be aware of spacing - your oats need to be a little crowded in the pan so they can stick together, but not so crowded that they don't toast evenly.

Stir during cooling process for a less clustered granola. Or if you love granola clumps, gently press down on the granola with the back of a spatula after stirring the mixture at the half-way baking point. Let the granola cool completely before breaking it up. Try our Pecan & Maple Granola Clusters recipe.

Let it cool completely before adding fruit.

For a nut-free blend, use seeds like pepitas or sunflower seeds, instead of nuts.

Be sure to use certified gluten-free oats if you need gluten-free granola.

Store in an airtight container to keep it crunchy!
Try our Granola Spice with your next batch to add an extra flavour boost to your morning.