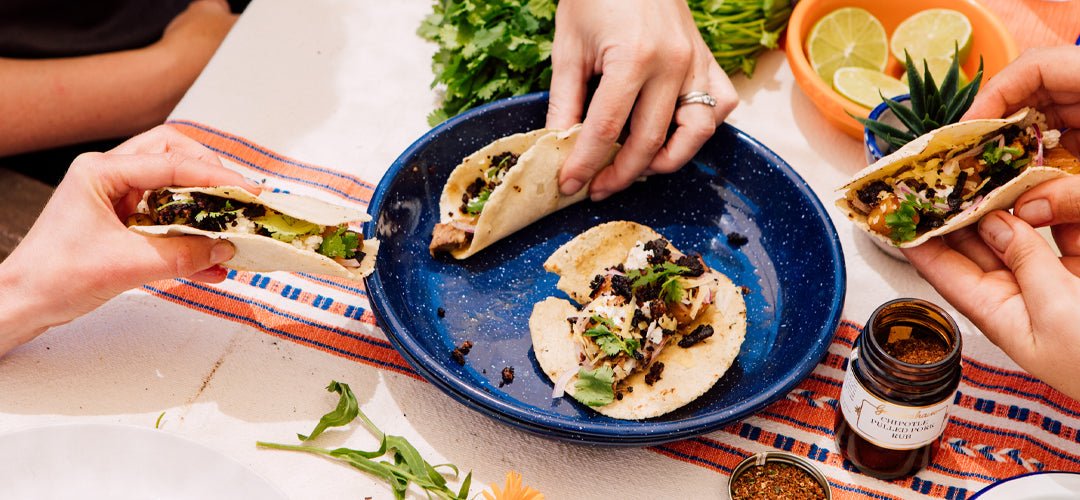 A Mexican Fiesta Menu
Do you need a way to feed a host of hungry mouths while also exploring new ways of cooking pork? Presenting our Mexican Fiesta menu plan. Filled with traditional Mexican fiesta foods and plenty of sides, this menu is sure to be a crowd pleaser.
Our fiesta menu centres around an age-old Yucatan-style dish: slow-cooked pulled pork. Made using our new spice blend, Chipotle Pulled Pork Rub, the pulled pork can be enjoyed in many ways – try it with burritos, tacos, bowls or even on its own!
Chipotle Pulled Pork
The Chipotle Pulled Pork is the star of this Mexican fiesta. Inspired by the age-old Yucatan-style dish, cochinita pibil, (meaning 'little pig'). The Yucatan-style method involves roasting the pork meat underground for several hours. Traditionally, the pork meat is marinated in citrus juice, which helps break down the pork, then wrapped in banana leaves for cooking, helping to trap moisture resulting in more tender meat. Our recipe echoes this method – we marinate the pork in orange juice (as well as a few more ingredients, including our spice blend) and slow-cook it over seven hours.
By adding our Chipotle Pulled Pork Rub, your pork cooks in the smoky heat from the chipotle pepper as well as the vibrancy from the annatto seed. In the last hour of cooking, remove the pork skin to create two delicious additions to your Mexican feasting. The first is pork crackling (not like the other pork crackling we've talked about).
Render the pork skin in a heavy cast iron pan. Make sure to place a splatter guard on top as the pork can pop and spray hot oil. Cook over a low heat with a good pinch of salt until blackened, crisp and dry (this process can take up to an hour). Break up the pork crackling over your pulled pork for a salty crunch, whatever way you eat it.
The second item you make is a German delicacy called Schmaltz. Schmaltz is the rendered pork fat that forms as you cook the cracking. Carefully pour off the oil into a glass jar as the fat liquifies. This can then be kept in fridge and used as a spread on bread just like butter. You can also use the fat for cooking, especially frying.
Burritos or Tacos?
Once cooked, you can eat your pulled pork in so many ways. Naturally, tacos and burritos are the obvious gateway to enjoying this pulled pork. Try it in the Chipotle Pulled Pork Burrito, or as the centrefold in the Pulled Pork Tacos. Our burrito recipe uses the smoky, spicy pulled pork to bring all the Mexican elements together into a crowd-pleasing dish. Our tacos include grilled pineapple to add a light refreshing taste to every mouthful. It also includes the steps to make your own tortillas with masa harina, a traditional Mexican corn flour (and a Tortilla Press, of course). Wrap your corn tortillas around the luscious pork, top with fillings of choice and enjoy.
Nachos with homemade tortillas chips are delicious with the addition of pulled pork. Chop corn tortillas into your desired shape and fry them in oil until crisp and lightly golden. Transfer onto some paper towel and sprinkle with salt while hot. If you'd like to try the pulled pork with every other element, our Chipotle Pulled Pork Nourish Bowl is a great way to sample the entire fiesta in one meal. As always, increase or decrease the levels of chilli to your own enjoyment.
Mexican sides & Condiments
Want to use the Chipotle Pulled Pork Rub in more ways than one? No fiesta is complete without its complementary smaller sides. Using the Chipotle Pulled Pork Rub, you can apply this versatile spice blend across most Mexican dishes whether it's Prawns or Grilled Corn. You'll find that the Chipotle Mayonnaise works great as an accompaniment to dip or drip across the dishes; it's easy to make and only involves 3 ingredients!
If you're after a veggie option, then the Chipotle Refried Beans are a perfect alternative. Other optional extras include Pico de Gallo, shredded cheese, hot sauces, and fresh sliced jalapeños – these will serve up a variety of tastes to suit everybody in your party.
Guacamole is an essential addition to any Mexican feast (we're not telling you anything you don't already know). It doubles as a dip, or for dolloping atop tacos or in burritos. Featuring Guacamole Spice, our Guacamole recipe is deliciously spiced and remarkably easy to make.
Dessert
No feast is complete without dessert. Our Chocolate Chilli Tart recipe is vegan, gluten-free and no-bake, and easy-to-make. It uses our Mayan Chilli Chocolate Spice to add combine sweetness and spice into a decadent dish. While simple to put together, the Chocolate Chilli Tart is a sweet way to use chillies in your baking, and add a zinger of a finish to any Mexican fiesta.