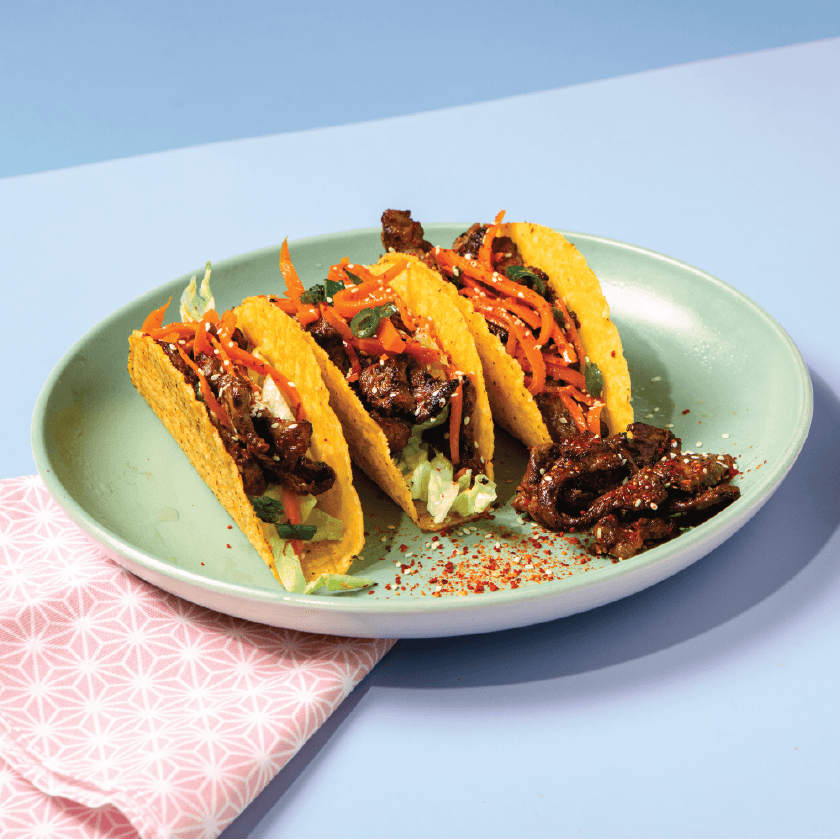 Korean BBQ Beef (Bulgogi) Four-ways
Literally translating to 'fire meat', bulgogi is a Korean BBQ dish where thinly shaved, marinated slices of sirloin, ribeye or other prime cuts of beef are grilled over a scorching hot barbecue or stovetop griddle. Although traditionally a beef dish, bulgogi recipes can be adapted to pork, chicken, or even sturdy vegetables such as jackfruit or king mushrooms. 
Many Korean restaurants allow you to cook bulgogi yourself at the table, and the theatre of a sizzling hot plate makes this dish exciting both in restaurant and home settings. At home, the delicious leftover possibilities make bulgogi a great option for a family meal. Try it for yourself with this simple recipe, using our aromatic Korean Gochugaru Blend. 
Bulgogi is a staple of another popular Korean dish, the bibimbap. A well-balanced family meal, bibimbap is a rice bowl that incorporates bulgogi, vegetables, gochujang dressing and is usually topped with a fried egg with runny egg yolk. You can find our recipe for bibimbap here. Engage the whole family by substituting in family favourite ingredients and allowing each member to build their perfect bowl. Set out ingredients in their own dishes, buffet-style, and plate up starting with a scoop of steaming rice, add warm bulgogi and go from there! Topping off with kimchi or other pickled or fermented flavour bombs is highly encouraged! 
Korean cuisine is known for integrating different cultures into dishes, and you will find that unexpected ingredients like mozzarella and mayonnaise are at home in the cannon of 'classic' modern Korean dishes. In the spirit of such fusion, we encourage you to experiment with your leftover bulgogi. Try a Tex-Mex spin on Korean flavours by stuffing taco shells with bulgogi and topping with fresh vegetables like julienned carrot and shredded lettuce. Optional taco extras include a spoonful of gochujang sauce and a squeeze of Japanese mayonnaise to finish. Or for a light, quick and easy snack, fill a lettuce cup with leftover bulgogi and top it with kimchi – perfect for a flavour-packed grab and go. 
Whether you want to experiment with elaborate combinations of banchan (Korean side-dishes) or keep it simple and let the flavour of the bulgogi shine, we are sure you will keep finding new and delicious uses for your bulgogi leftovers.