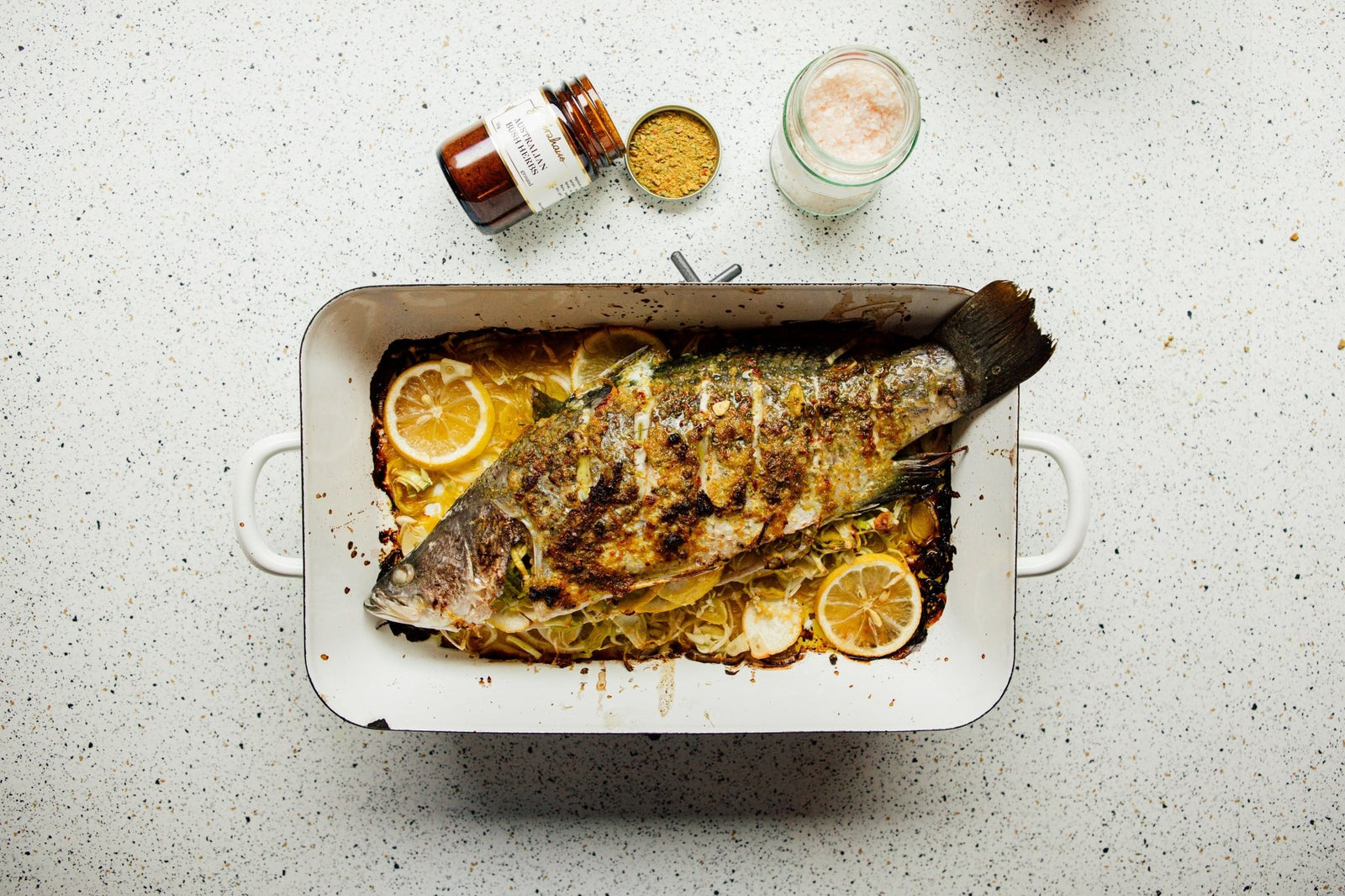 The Best Herbs & Spices to Flavour Your Fish
Fish and seafood are wonderful proteins to work with - they cook quickly, they can be used across any cuisine, and their variety of forms and textures ensures that you never get bored experimenting in the kitchen. To enhance their mild and delicate taste, go beyond serving fish with just a side of lemon and look to a world of herbs and spices to flavour your catch of the day. Whether it's trout, salmon, pike, pickerel, perch, catfish, bass or any other seafood, you can go from an ordinary fish dish to one with extraordinary flavour, with just a handful of herbs and spices.
What herbs go best with fish?
When making a dish with fish, consider the flavour it already has and bring it out by adding herbs that further complement it. Some of the best herbs to use with fish are basil, tarragon, dill, and parsley.
Basil enhances the flavour while adding a slight sweetness and is lovely when used with halibut or cod.
Tarragon imparts a sweet liquorice-like taste and works especially well with white-fleshed fish such as bass or tilapia.
Dill provides a slightly sour and savory note which goes great when combined with salmon or trout. Pair it with paprika, to give a delightful lemony and peppery zing to your fish.
Parsley adds a touch of pepper and grassy notes and is a wonderful all-rounder for any kind of fish.
If you like to experiment with native ingredients, we recommend seasoning your barramundi or bass with our Australian Bush Herbs. Featuring Australian coriander, pumpkin, lemon myrtle, bush tomato, sea salt, onion, native thyme, aniseed myrtle, and chives, this blend is wonderful when added to a breading mix.
What spices go best with fish?
When using spices with fish, it's important to keep in mind that a little goes a long way. You don't want to overpower the delicate flavour of the fish with too much spice. Start with a small amount and add more if necessary. With the right combination of spices, you can take your fish dishes to the next level. Here are a few spices that naturally complement fish:
How to bake fish with spices
What Spice Blends go best with fish?
How to bake a whole fish with spices
Baking a whole flat fish might sound intimidating, but it's not too challenging. If you're planning on seasoning the fish through the centre, then you'll need to cut a slit midway through it to create a cavity. You can also purchase the fish from the fishmonger and request for it to be cleaned before taking it home.
Our Whole Baked Fish recipe fills the cavity with the sliced leek, garlic, lemon slices and a paste made by mixing Australian Bush Herbs and butter. As the recipe calls for a white fish like snapper or barramundi, you won't be dealing with a large amount of fat (compared to a fish like salmon or herring) and you'll need to protect the flesh to avoid it from drying out during the bake – that's what the paste will do.