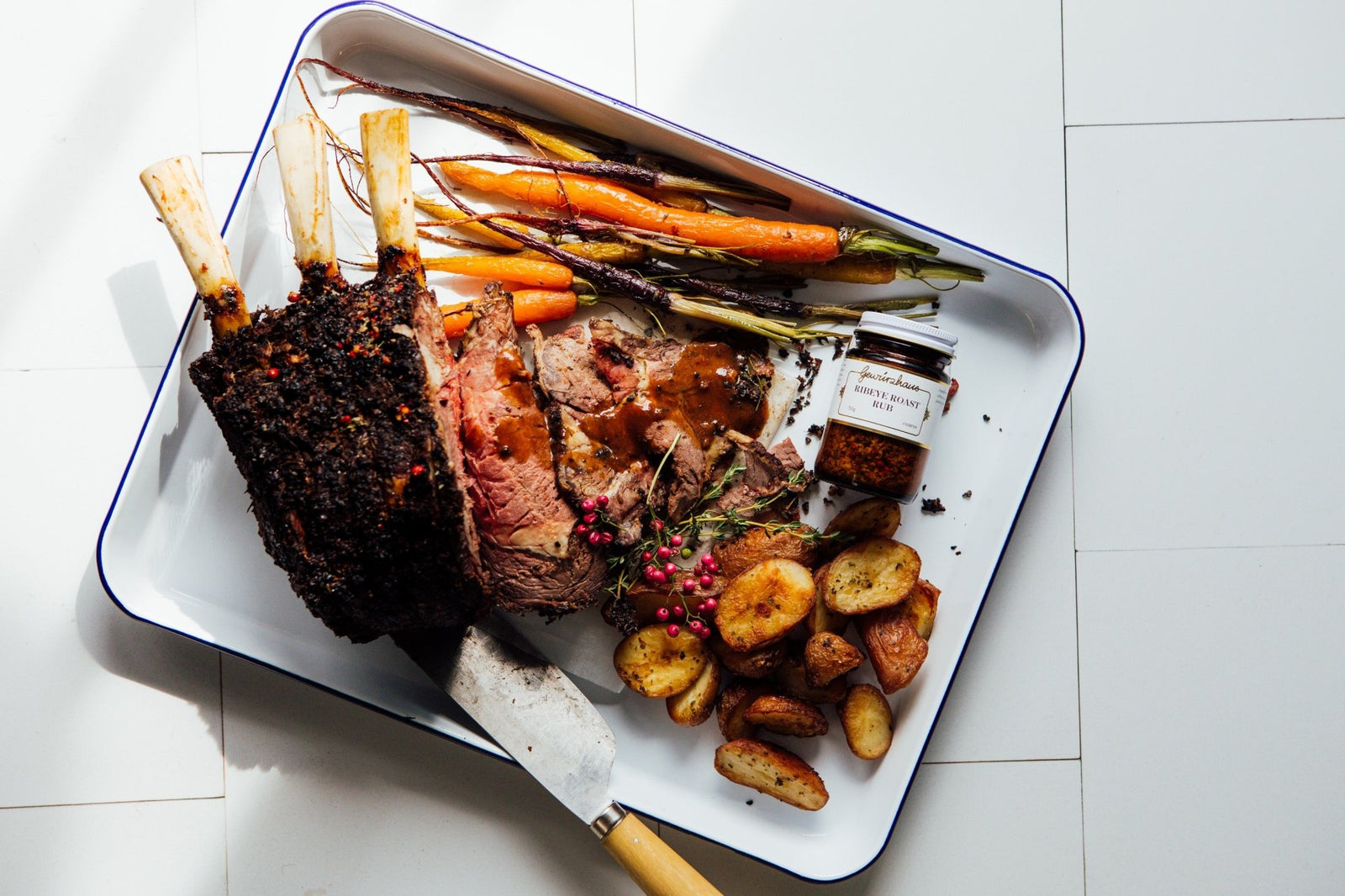 7 Sunday Roast Recipes for Family Feasting
The Sunday dinner is a monument to an Australian family tradition – a time where everybody comes together at the end of the week, to share their stories, and to get ready to settle down before a new week.
The tradition hails back to when the British colonists first settled in Australia, who brought this weekly practice with them in the late 18th century. One would prepare the roast before leaving for church and then come home to a family meal. The meal would be so plentiful that there would be leftovers enough for the following week. The tradition has lingered because what better way to round out the week than with a delicious Sunday roast? Whether chicken, game, pork or lamb, there's plenty of inspiration served up for your family's next Sunday meal.
1. Bavarian Whole Roast Chicken
Chicken, as a main, can be considered an unassuming meat. But with the traditional German Bavarian Whole Roast Chicken, that assumption is turned on its head. Relatively simple and made even better with paprika and peppercorns, the recipe involves a whole chicken rubbed with butter and German spices then roasted in the oven. Perfect for beginners, but an equally impressive dish for the expert roaster, showcasing the flavours of Bavarian Roast Chicken Spice.
2. Slow Roasted Lamb Shoulder
Build layers of Middle Eastern flavour with Sumac Pepper in this recipe. This spice contributes floral and zesty elements with a hint of heat to Slow Roasted Lamb Shoulder, which, with the inclusion of silverbeet and olives, creates a sweet and sour power combo.
3. Tender Fennel Roast Pork
The Tender Fennel Roast Pork is a show-stopping main to feed a family. It may involve marinating the day before, but it's well worth the effort to achieve that ultimate pork crackling. If you've never made crackling before, read our guide on How To Make Pork Crackling Like A Pro before you begin, to get the best result. Make sure to prep some star sides like Harissa Roast Potatoes and Fennel, Apple, Red Onion & Aleppo Pepper Salad to accompany your meal.
4. Festive Ribeye Roast
It's not just a feast for the eyes; it's a feast for the family. Although it's likely best reserved for larger, more festive occasions rather than your weekly Sunday roast, there's no denying that the Festive Ribeye Roast is a showstopper. It's made using Ribeye Roast Rub, a spice blend developed to bring out the best in beef. This blend uses the texture and crunch of pink peppercorns and Victoria sea salt (amidst other spices); flavours that make for the perfect accompaniment to your ribeye. Make sure to have some Salted Peppercorn & Thyme Butter handy, also made with Ribeye Roast Rub, for a final touch.
5. Roast Rolled Pork Loin
Imagine a picturesque Sunday afternoon roast: do you see a slow cooked, crispy roast pork, dazzling crackling, sizzling apples with softened onions? If yes, you can make that dream a reality with Roast Rolled Pork Loin with Apples & Onions. This recipe for mouth-watering roast pork is made with Crunchy Pork Crackling Rub. Use this spice blend to bring a beautiful balance of salt, umami, citrus, and herbs to your roast pork: all thanks to the combination of fennel seed, lemon myrtle, and bay leaf.
6. Smoky Almond Dukkah Crusted Lamb Rack
Spices like cumin and paprika work beautifully with lamb, and can be found in our Smoky Almond Dukkah. This spice blend plays on the middle eastern classic but brings a unique smoky flavour and crunch with the inclusion of South Australian grown almonds, red gum smoked South Australian sea salt and Tasmanian pepperberry. These all come together to crust the Smoky Almond Dukkah Crusted Lamb Rack. With this recipe, you'll achieve delicious lamb cutlets in less than an hour. For a Sunday roast, served with Kipler potatoes and green beans, this lamb rack meal will have everybody coming back to the table for seconds.
7. Slow Cooked Greek Lamb Shoulder
This Slow Cooked Greek Lamb Shoulder sits in the oven for five hours and roasts to perfection. Lamb meets Greek Grilling Spice and finds culinary harmony; you'll taste the classic flavour pairings of rosemary, onion and oregano, but it's the sumac and aniseed myrtle that really bring a subtle sweetness to this meal. Served with the honey-like, syrupy sweet tastes of the figs, your lamb shoulder will sing the flavours of Greece.