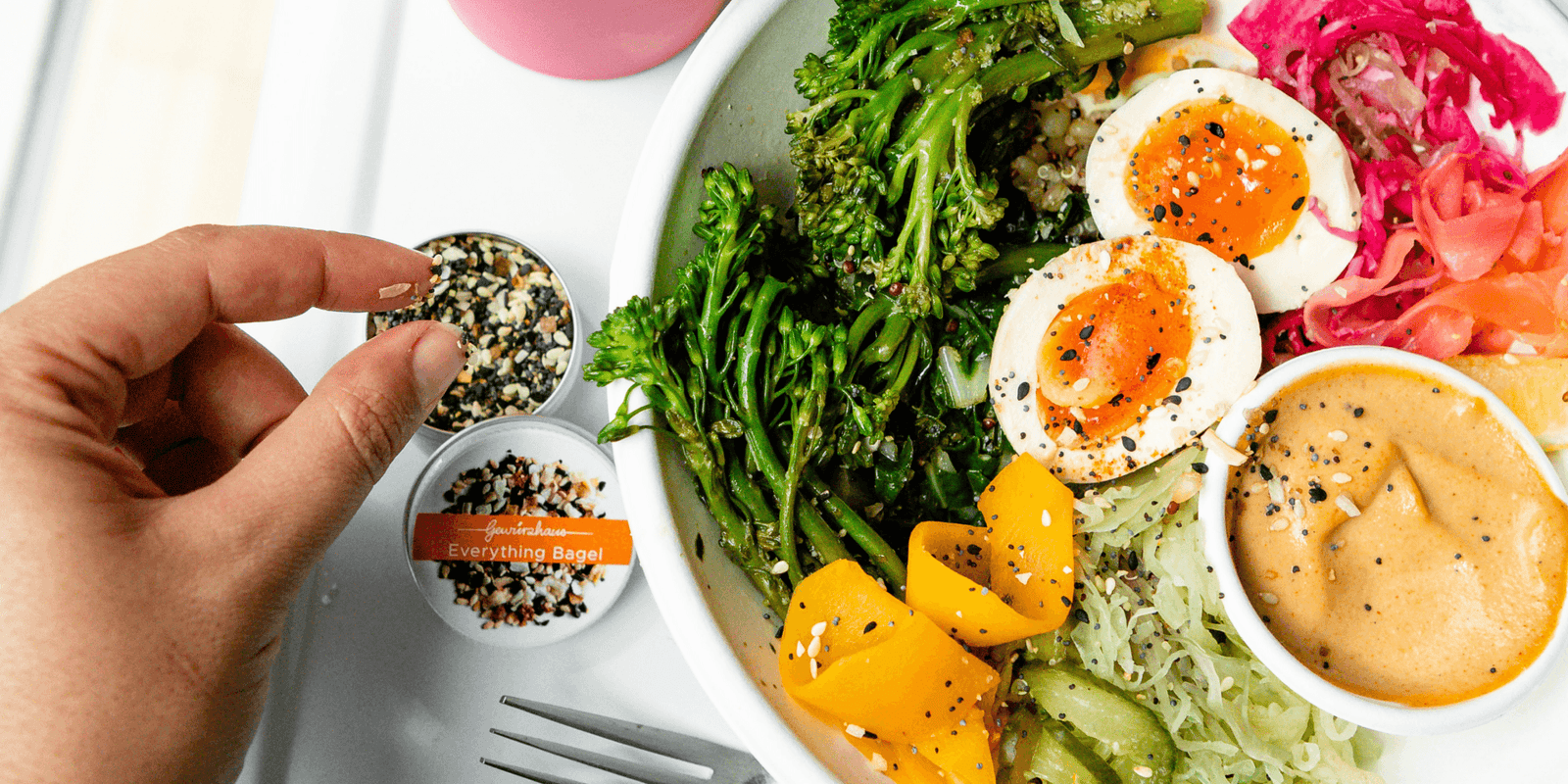 Everything Bagel Blend, Everyday Hacks  
While its name may sound like the bagel version of a burger with the lot, an everything bagel is actually all about the scattering of a specific mix of seeds, salt and spices that sit proudly atop the bagel. Emerging as a New York staple over the years, it has made its presence known across the world with the rise of the artisanal bagel trend and the growing love affair with sprinkling this blend onto, well, everything.  
Traditionally, an Everything Bagel Blend should incorporate a mix of poppy and sesame seeds with dried onion. Taking a lead from the New York classic, the Gewürzhaus Everything Bagel Blend is supercharged by our Native Red Gum Smoked Salt, which adds a satisfying hit of savoury umami flavour. The blend is completed by incorporating nigella seeds, a secret weapon which lends a fragrant and slightly bitter finish. The resulting blend is a moreish balance of umami, sweet and salty.  
What are our favourite hacks?  
The Everything Bagel Blend is a tasty topper for more than just bagels. It is truly as versatile as it is delicious, especially when it comes to amping up simple dishes. We are certain you'll catch yourself using it far more often than anticipated.  
Try using it as a seasoning mixed through mac & cheese, incorporated into a potato salad or simply sprinkled on rice. Rich and creamy ingredients like egg or avocado benefit greatly from a dusting of Everything Bagel Blend, too. Used in place of regular seasoning, it will add a pleasing crunch and complexity. Try our recipe for Soft Scrambled Eggs with Everything Bagel Seasoning for the ultimate weekend breakfast, or use it to finish a tomato, mozzarella and basil caprese platter. 
Of course, the blend is a natural pre-bake topping for bread products like bagels, focaccia and sourdough. And for a quick and impressive party dipper, you could try whipping up some Everything Bagel Blend Lavosh. The Everything Bagel Blend also shines brightly as a flavour-enhancer for greens and salads like Warm Zucchini Salad with Everything Bagel Blend, or as a complement to seafood like in Everything Bagel Blend Crusted Fish. 
Our CEO and former pastry chef, Grant Inches, the mastermind behind the Gewürzhaus Everything Bagel Blend, "Since we developed the Everything Bagel Blend, I have not been able to eat my weekend eggs without sprinkling it on top. I've found it especially useful in elevating plain side dishes like rice, mashed potato or a side salad, and to enhance sandwiches and toasties. I also recently discovered the benefits of using it as a finishing seasoning for blended vegetable soups and homemade ramen. The blend has very quickly become a staple ingredient in my house an it's easy to see why it's been such a hit with our customers." 
Trust us and try it on everything. The world is your bagel! 
See where your imagination takes you and share those recipes back with us on our Gewürzhaus Facebook page