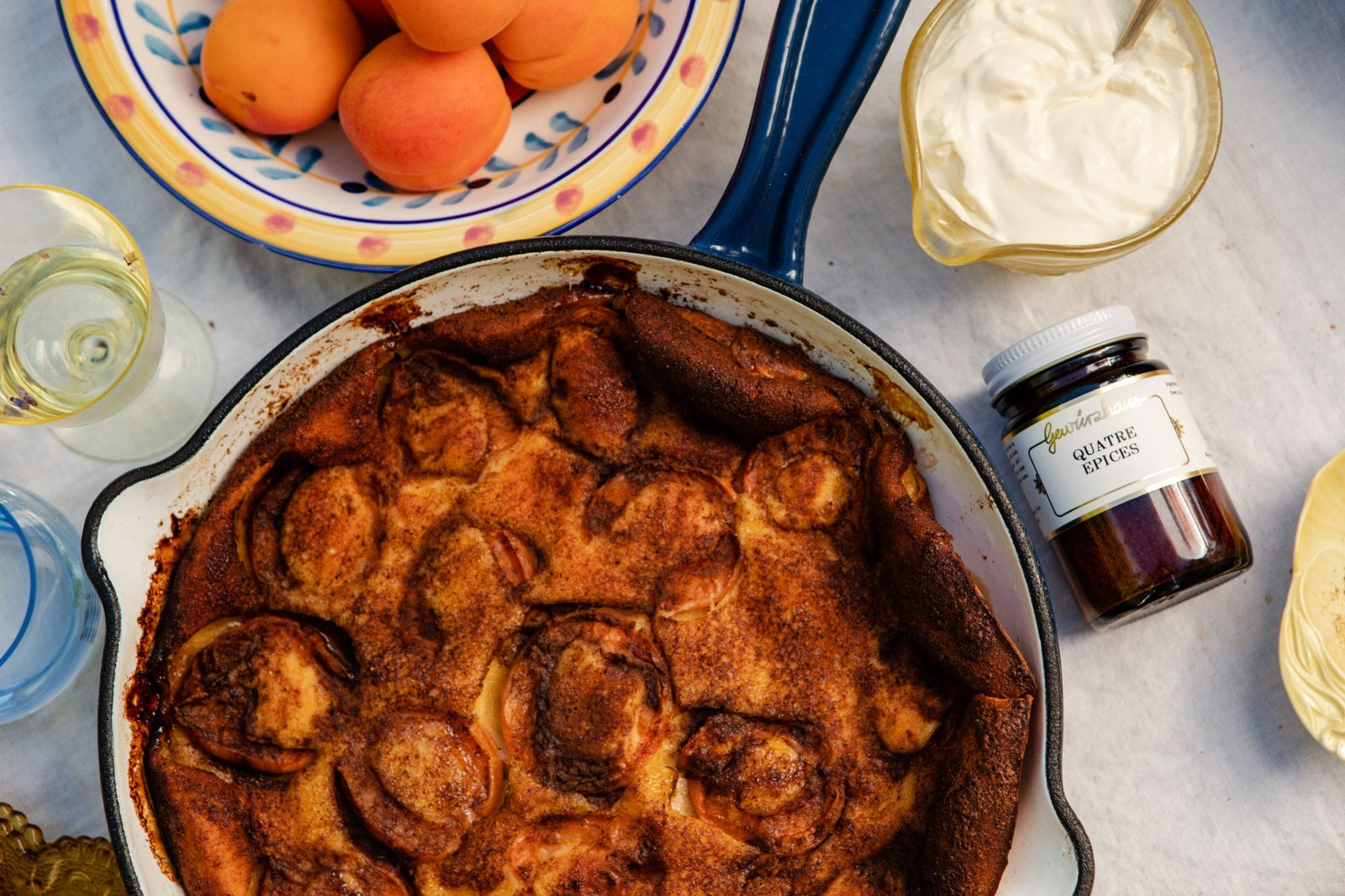 What is Quatre Épices?
Quatre Épices is a spice blend with a history spanning centuries; it's one of those ingredients that lends many French dishes a sublime something that truly sets them apart. Our limited-edition version combines white pepper, nutmeg, clove, ginger and cinnamon to bring subtle, peppery warmth to both savoury and sweet dishes.
French cooking is renowned for elevating everyday ingredients – bringing out the very best in fresh, local produce, and making extensive use of herbs and spices to complement their flavours. Along with Herbes de Provence, Quatre Épices is a French staple with a history spanning centuries, and one of those ingredients that lends many dishes a sublime, special something that truly sets them apart.
<

While the title means 'four spices' in English, this enticingly aromatic blend more often contains five spices. Versions differ from one French region – and even one village – to the next, as do the proportions of each spice used. The mainstays are black or white pepper, plus nutmeg and clove blended with ginger or cinnamon; allspice is sometimes included as well.

Our limited-edition Quatre Épices blend leans strongly on tradition. White pepper brings subtle pungency and heat, whilst nutmeg and clove add their characteristic warmth and sweetness. Ginger lends extra spice and bite; and the addition of cinnamon effects depth and brings a touch more sweetness. It's an incredibly versatile combination, delicious in both savoury and sweet dishes.

Each spice also helps to boost nutrition; most are rich in manganese and contain trace amounts of various other minerals and vitamins, as well as dietary fibre.

How to cook with Quatre Épices
Quatre Épices is used extensively in French charcuterie – pâtés, terrines, rillettes and sausages – and in rich meat dishes including ragouts, meatballs, and venison and beef stews.

The combination of bite and sweetness also works beautifully to give balance and subtle contrast to substantial soups, cream- and butter-based sauces, egg noodles such as Spätzle, vegetable gratins and even humble mashed potatoes. It's particularly good, too, matched with pork and duck.

It's not only savoury dishes, however, that shine with the addition of Quatre Épices. This adaptable blend also adds wonderful complexity of flavour and spicy warmth to doughs, spiced cakes, biscuits and pastries, and desserts such as fruit flans, custards and rice puddings.

Once you become familiar with Quatre Épices, you're bound to find a place for it in any number of dishes. Begin with our creamy Sweet Potato Dauphinoise and Spiced Apricot Flaugnarde, and experiment at length with any recipes that might be brightened by the addition of these classic spices.

History and tradition

Whilst its origins aren't entirely clear, Quatre Épices is said to have in the port city of Saint-Malo, Brittany in the 17th century, where food was often influenced by Middle Eastern and Asian cuisines.

This was a time of great change and extravagance in Europe, not least in France, and one in which French chefs became enthusiastically familiar with cuisines new to them – especially Arab and Persian foods – due to the spices and stories brought by traders who passed through Saint-Malo and other ports. What was once innovation is now centuries-old tradition, to be enjoyed at your family table year-round.