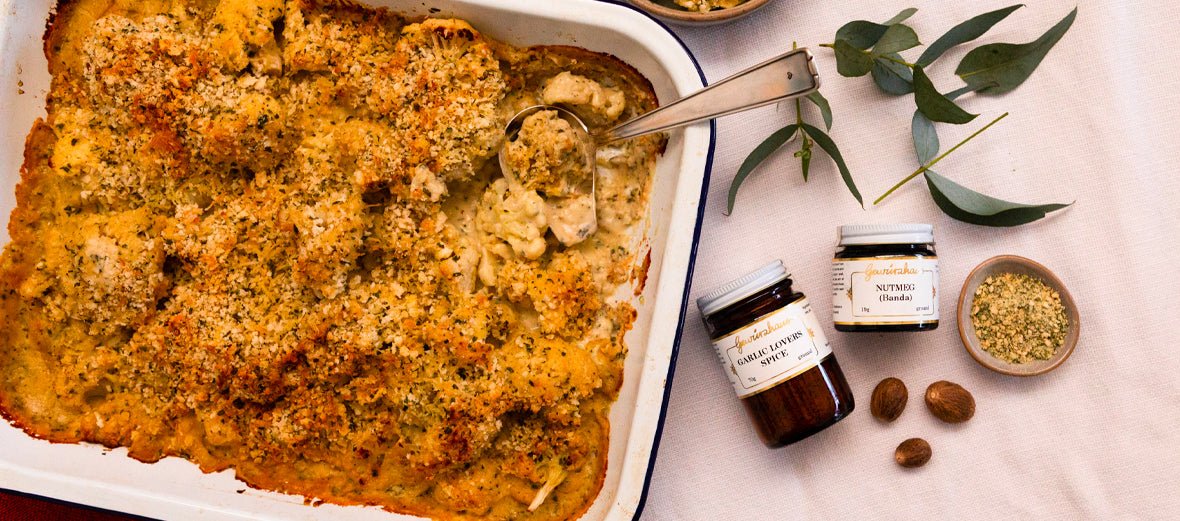 9 Recipes for Cooking with Cauliflower
Crunchy, nutritious, and very tasty: cauliflower is an incredibly versatile vegetable that comes into crop during mid-winter. Every bite of cauliflower contains a healthy dose of Vitamin C, making this vegetable a very healthy option when you're looking for comfort food in the cold of winter.
How do you cook cauliflower?
You can cook cauliflower in many ways: roast it, steam it, boil it, or, if you're feeling creative, transform it into couscous. Whether you're a veggie-friendly fiend or someone looking to dress up their meat dishes with nutritious sides, cauliflower can be used for many dishes (as our recipes below can attest). Which spices make cauliflower taste even better? This delight of a winter vegetable works super well with warming spices such as Chimichurri, Ras El Hanout and Sumac.
Should your tastes skew towards sour and citrusy overtones, try roasting your cauliflower with Sumac or Za'atar. If you're curious about finding more spices perfect for cooking vegetables and plant-based diets, make sure to read our Spices for Plant-Based Diets. See how you can use these spices in the 9 cauliflower recipes featured below.
1. Whole Baked Cauliflower
This recipe, Whole Baked Cauliflower, echoes the depth of flavours in Moroccan cuisine, heralding the beautiful warming tones in the spice blend Ras El Hanout. Many recipes may suggest roasting a whole cauliflower before adding more flavour, but we recommend steaming it at a rolling simmer to soften it up before the roast. The spiced sultana and maple syrup sauce – made using Ras El Hanout, sultanas, olive oil, butter, lemon, and maple syrup – coats the entire head with a decadent sauce before entering the oven. Not only does this achieve a caramelised and sweet taste across the cauliflower florets, it also crisps up the leaves making for a satisfying crunch. Make sure to serve hot with our Rose Harissa Yoghurt as a refreshing yet zesty side.
2. Creamy Cauliflower & Garlic Lovers' Gratin
Gratin is a popular French dish, topped with breadcrumbs and melted cheese combined to create a crispy crust. This Creamy Cauliflower Gratin recipe combines Garlic Lovers' Spice with the traditional white sauce present in gratins (made using butter, flour and milk). And if ever there was a spice blend perfect for a gratin, it would be Garlic Lovers' Spice. This spice blend melds beautifully with the white sauce, creating a garlicky tang throughout. Gratins are especially comforting, perfect for cold winter nights where the oven warms up the kitchen during the bake. Best of all, you can have this on the table in under an hour.
3. Chicken Thighs with Chimichurri Sauce & Cauliflower Couscous
This recipe for Chicken Thighs served with Cauliflower Couscous guarantees a health kick you need in winter. Even though we've used it here for the chicken, this spice blend is not just for the carnivores: Chimichurri Spice is delicious used across many vegetarian dishes. We've used Chimichurri Spice across most of our cauliflower recipes – that's how much we love it.
4. Cauliflower Steaks with Chimichurri Sauce
For a completely meat-free alternative, you simply must try Cauliflower Steaks. It's a simple recipe, equal parts marinade and roast. Coat them with a combination of olive oil, red wine vinegar, lime juice and Chimichurri Spice, and then leave them to rest. After that, roast them up and season to taste with Fleur De Sel.
5. Spiced Cauliflower and Quinoa Salad
For a step into the lighter side of life, try Spiced Cauliflower and Quinoa Salad. The cauliflower is cooked with oil and onion, both coated with Garam Masala, a traditional Indian spice blend. It'll bring flavour as well as mild heat to your salad. Thrown together with the quinoa, green chilli and yoghurt dressing, this winter salad is very easy, and despite the list of ingredients, can be put together in merely 30 minutes.
6. Popcorn Cauliflower Bites
Popcorn Cauliflower Bites are a snacker's delight. These cauliflower bites are covered in Louisianan Cajun Spice, mixed with a flour-based batter and then fried until golden. Louisianan Cajun Spice is a blend made with spices common across Cajun cuisine. Cajun cuisine combines the influences of French, Canadian and Creole cooking, and we've taken that bold, smoky flavour to these bite-sized snacks. If you'd like to, double the recipe to use for a full head of cauliflower and enjoy (literally) in place of traditional popcorn. Perfect for a night in with a movie, ideally devoured with Creamy Ranch Dip.
7. Roasted Cauliflower Soup with Chimichurri
Once again, Chimichurri Spice brings your cauliflower to life in this recipe for Roasted Cauliflower Soup. With this soup, it's simply a matter of roasting the cauliflower before to putting it together with the rest of the ingredients. When paired with single-origin herbs and spices like Bay Leaves, Cumin and Nutmeg, you simply cannot go wrong with cauliflower.
8. Smoky BBQ Glazed Cauliflower Nuggets
Do you want the children to eat something healthy-ish? You can disguise these little cauliflower florets as nuggets! These Smoky BBQ Glazed Cauliflower Nuggets are anything but boring: get your little one involved in the process by teaching them how to dip into the eggs, coating with breadcrumbs and lining a baking tray. Make the delicious sticky glaze with BBQ Glaze Spice and then sprinkle over some Native Red Gum Smoked Salt. You can either then dip the baked florets in the glaze or enjoy them with the sauce drizzled over the entire batch. These homemade nuggets will transform your fussy eaters into guaranteed plate-clearers.
9. Seared Scallops with Black Truffle Salt, Cauliflower Purée & Kale Crisps
If it's time to treat yourself, then this starter dish is a decadent choice. While the cauliflower plays a smaller role in this dish, it's still part of a magnificent plate. The Seared Scallops are made with Black Truffle Salt, while the kale crisps are seasoned (to a crisp!) with Chilli Salt. Served on a bed of cauliflower purée, seared scallops are enjoyed with crisp kale and a spoonful of lemon butter.
Which cauliflower recipe will you try?
Whether it's the star of the show or a companion side, cauliflower is an easy way to bulk up a winter meal. Seasoning cauliflower with spice makes winter cooking taste even better. If you have a cauliflower recipe that you've crafted using one of our spices, let us know. Visit our Cooking Community and make sure to share a photo alongside your recipe.