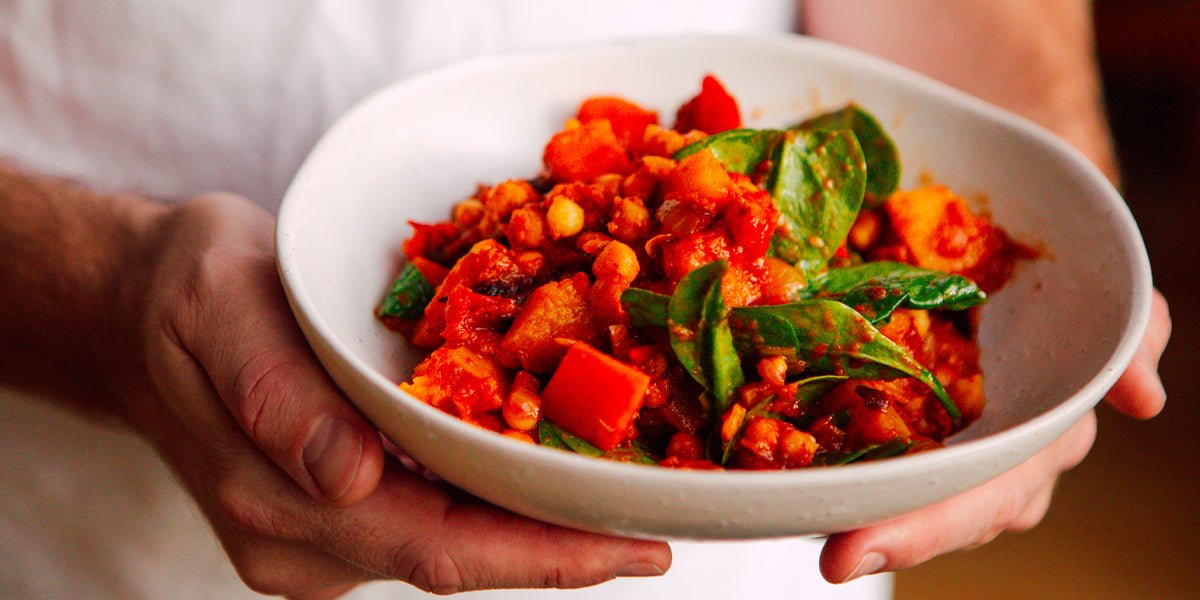 Spices for Plant-Based Cooking
Guest blog by Bec Ponsford, Accredited Practicing Dietitian and Spice Merchant.
The interest and popularity in plant-rich diets is certainly growing, and for good reason. Eating a wide variety of plant foods makes for a foundation of a healthy and nourishing diet.
From a nutritional perspective, including a wide variety of vegetables, fruit, legumes, whole grains, nuts and seeds in your meals is an excellent way to nourish your body with essential vitamins, minerals, antioxidants, phytochemicals (naturally occurring plant chemicals), plant proteins and fibre to support our gut microbiome. This is why we see these food groups consistently having a foundational role in public health dietary guidelines around the world. Variety is key in a plant-based diet, as eating a diverse range of these foods is associated with benefits to gut health, heart health and almost all bodily systems.
So how can you get more nutritious vegetables, legumes and plant foods onto you and your family's plates? One of the best ways is to pair them with delicious flavours. If you simply steamed a piece of meat with nothing else, it probably wouldn't be that exciting to eat, would it? This is why we flavour and season our food with herbs, spices, salt and pepper – to bring out and compliment the flavours of the meal. The same concept goes for vegetables.
Whether you follow a completely vegan or vegetarian diet, you're looking to reduce your meat intake or just wanting to get more veggies onto your plate, understanding a few key flavour combinations can make all the difference.
Here we've broken down categories of vegetables, legumes, whole grains and nuts and highlighted top Gewürzhaus spices that will make them these foods an enjoyable and regular part of your cooking repertoire.
While a "plant-based" focuses primarily on eating a diet rich in plant-based foods, there is no set definition. So this way of eating may look slightly different for each person. You'll find a range of recipe ideas below which are completely plant-based (vegan), and where animal products are found, suggestion vegan modifications are provided.
Using spices for cooking vegetables
Starchy and root vegetables
Starchy vegetables such as potatoes, sweet potatoes, parsnips, pumpkin, corn and peas are true carriers of flavour. These are some of the most versatile vegetables to cook with as they lend themselves to various cooking methods from boiling, roasting and grilling to mashing and puréeing. These vegetables verge on the side of a sweet flavour, which makes them excellent to pair with strong, earthy and astringent flavours. Potato or pumpkin are particularly great vegetables to cook with herbs and spices, as a way to encourage kids (or sceptical adults) to try new flavours without overwhelming the palate.
Which spices are great to pick up for your starchy vegetables?
The very popular Roast Vegetable Salt is a staple for all roast vegetables, particularly potato, pumpkin, parsnip and carrot. This blend contains flaked salt, onion, garlic, oregano, lemon myrtle, mustard seed and more. Toss vegetables with olive oil and a generous sprinkle of Roast Vegetable Salt and roast away.
Anyone who has tried Bratkartoffel Spice will know what a comfort food this traditional German dish of pan fried potatoes with onions and butter is. Also delicious when used with olive oil to roast potatoes in the oven.
Australian Chicken Salt is a hit with homemade potato chips and is in fact a vegan blend made from all-natural ingredients like garlic, roasted sesame and kelp (seaweed). Australian Bush Herbs, made from native ingredients including lemon myrtle, bush tomato and native thyme, is another delicious blend which compliments sweet potato and pumpkin incredibly well.
Earthy, fragrant and rich Moroccan and Middle Eastern spices have a wonderful way of elevating the flavours of root vegetables. Moroccan Souk Spice is a stand-out blend for pumpkin dishes. Try it in this wholesome Pumpkin and Chickpea Salad, or for a cold night make this delicious Moroccan Pumpkin Soup with Fried Shallots. For some punchy heat, try harissa in these mouth-watering Harissa Roast Potatoes. Earthy and peppery, Saudi Baharat is great with root vegetables like in this Baharat Carrot Salad which is paired almonds, mint and feta, which can be made vegan using vegan feta cheese.
Smoky Almond Dukkah – made with red gum smoked South Australian sea salt and Tasmanian pepperberry – is also fantastic with roast beetroot and pumpkin.
In Indian cooking, aloo masala (spiced potatoes) are a standard side dish commonly containing Amchur and Turmeric amongst other spices. Panch Phoron – Bengali Five Spice, lends itself to vegetable dishes such as this Dry Potato Curry.
And for a family favourite, try a Vegetarian Butter Chicken. It's a great way to fill up plates up with both flavour and vegetables!
Cooking with cruciferous vegetables
Part of the Brassica genus of plants, cruciferous vegetables include broccoli, cauliflower, brussels sprouts, cabbage, bok choy, kale, radishes and turnips. These vegetables pack a nutritional punch as they are rich in antioxidants and sulfur-containing compounds that may protect against cancer. It's these natural compounds that cruciferous vegetables quite pungent and bitter to taste.
There are a few tricks to reduce the intensity of these bitter flavours and make vegetables the real star of your meal. Using particular cooking methods and complimenting flavours can make all the difference. Firstly, use different flavours (sour, sweet, herby, earthy and salty) to dishes with brassica vegetables to move attention away from the bitterness and stimulate multiple taste buds at once. Then add an element of fat or sweetness to further compliment the vegetables. This may involve cooking or drizzling broccoli and kale with extra virgin olive oil and adding to your favourite pasta. Try adding avocado, roasted nuts, cooked onions, soft cheese, fresh orange segments or pomegranate arils to a rocket or watercress salad or using honey or maple syrup in a dressing.
In terms of spice blends, Ras El Hanout adds a rich Moroccan flavour to vegetables, like in this Spiced Vegan Chickpea Stew. Egyptian Dukkah gives a delicious nutty flavour when sprinkled generously over roasted broccoli and cauliflower. Chilli and garlic could also be considered staples here too, making Chilli Salt and Garlic Lovers' Spice friends of brassica vegetables. For a sour touch, try Sumac, Za'atar or Barberry with roasted cauliflower, cabbage and red onion.
A natural compound called sulforaphane, found in cruciferous vegetables, has been widely researched for anti-inflammatory health benefits. It is found in the highest amounts in raw vegetables like broccoli, however with the help of a little spice, the sulforaphane in cooked vegetables can be increased. When powdered mustard seed is added to cooked broccoli, the formation of sulforaphane is found to be four times greater.
You can do this in your own home by pounding brown or yellow mustard seeds and adding to roasted broccoli, cauliflower or brussel sprouts. The yellow mustard seeds have a more mellow, slightly sweet taste, while brown seeds are more hot and pungent.
Cooking with
n

ightshade vegetables

The family of Solanaceae, or nightshade vegetables like eggplant, capsicum and tomatoes are used around the world to absorb and carry flavour.

In summer, nothing beats fresh ripe tomatoes with a good quality salt and cracked pepper. Fleur De Sel De Guerande, Black Lava Sea Salt and Peppermill Trio are all interesting choices in the world of salt and pepper. For a fruity touch, sprinkle Vintage Merlot Salt on tomatoes or your salad.

Italian Herbs is incredibly versatile and great with pan-fried or roasted tomato, zucchini and capsicum. Tangy and citrusy sumac compliments tomato and eggplant alike. Eggplant is also a delicious main or starter when roasted on high heat until soft and finished with Smoky Almond Dukkah, as done so in this Whole Grilled Eggplant recipe. (Substitute the cheese for a plant-based feta or labneh to make vegan). Get the barbeque fired up and grill capsicums with Spanish Skewer & BBQ Spice.
Using spices for
making salads
Nigella seeds have wide uses for salads and sweet roasted vegetables as they provide a balance of freshness, astringency and crunchy texture. Black and Golden Sesame seeds have a slightly sweeter and nutty flavour that makes an excellent easy condiment for dips, roast pumpkin, Asian green vegetables and broccolini, especially when toasted.
An incredibly simple way to enhance your usual salad dressing is to mix in Salad Herbs 10 minutes before using. The garden herbs and onion in the blend will rehydrate and add a beautiful flavour to an olive oil and vinegar dressing.
Cooking with fungi and spices
Mushrooms have a wonderful meatiness about them, and take on flavour easily, making them great to include regularly in a plant-based diet. Simply pan-fry mushrooms with Garlic Lovers' Spice or a touch of Black Truffle Salt. For an Asian stir fry, try them with Chinese Five Spice or Asian Wok Spice.
If you're using mushrooms as an alternative to meat, coat portobello mushrooms with Melbourne Coffee Meat Rub and grill on the barbeque or try Oma Rosa's Gulasch on your mushrooms for a rich Hungarian flavour.
Using spices for
l

egumes and lentils

Packed with protein, beneficial fibre to support gut health, high in iron and inexpensive, legumes and lentils are nutritious dietary staples. From falafels and veggie burgers to soups, salads and dips, legumes have a wide range of uses in cooking.

Chickpeas work well with Moroccan-style spices like cumin, coriander, cinnamon, paprika, ginger and Aleppo Pepper flakes. Moroccan Souk Spice, Berbere and Ras el Hanout are excellent choices. Find meal inspiration with these Berbere Spiced Falafels with a yoghurt and tahini sauce. Try coconut yoghurt for a completely plant-based version.

White beans such as cannellini beans and butter beans combine well with soft herbs like tarragon, parsley, thyme, basil as well as garlic and sumac. Garlic Lovers' Spice and Greek Grilling Spice are blends worth pairing with white beans.

Red kidney beans and black beans work well with Mexican and South American dishes. Try these with smoked paprika, Chilli Con Carne, Chimichurri and Tex Mex Taco Spice. If you're cooking Mexican, be sure to get your hands on Guacamole Spice which can simply be mashed into avocado with a squeeze of lime.
Cooking with whole grains and spices
You don't have to look far to discover ways to flavour whole grains like rice, cous cous, barley, quinoa and buckwheat. Many traditional Moroccan and Middle Eastern grain dishes often use saffron, cinnamon, dill, turmeric, barberry, tarragon and parsley. For an easy idea, try melting butter with Ras El Hanout or Turmeric Latte Spice, then add rice or quinoa and water and simmer until the liquid is absorbed. Likewise try adding Caribbean Fish and Scampi for a zesty addition to rice or Moroccan Souk Spice in cous cous.
Moving over to Italy, try adding Northern Italian Risotto blend to your favourite vegetable risotto and sauté Venetian Gondola Spice with Mediterranean vegetables for a simple vegetable pasta.
In the morning, try making a nutritious porridge or overnight oats spiced up with cardamom, cinnamon, roasted wattleseed or Apple Cake Spice. If you prefer your oats crunchy, Granola Spice can be used to create a simple everyday oat granola or gluten free granola clusters like these.
Spice Up Your Nuts & Seeds
For a tasty and nutritious snack or salad topper, you can lightly roast nuts and seeds with herbs, spices, honey and a dash of oil. A few stand outs include Cinnamon, Cayenne Pepper, Asian Wok Spice and Native Smoked Red Gum Salt. Granola Spice is wonderful in these No-Nasties Nut Bars and for a festive-flavoured treat, try St Nicholas Spekulaas Spice in Spiced Mixed Nuts.
In Sri Lankan cuisine, cashes are often used to make a creamy vegan curry. You can make your own vegan curry at home using Suja's Sri Lankan Curry Blend.
Eat well with plant-baked cooking
When it comes to eating well, there is no denying that a diet rich in plants is something we can all benefit from. Vegetables, legumes, whole grains, nuts and seeds can certainly make for the hero of a meal in their own right. With the help of herbs and spices, plant-based cooking can be easy, exciting and most importantly, delicious for all to enjoy.