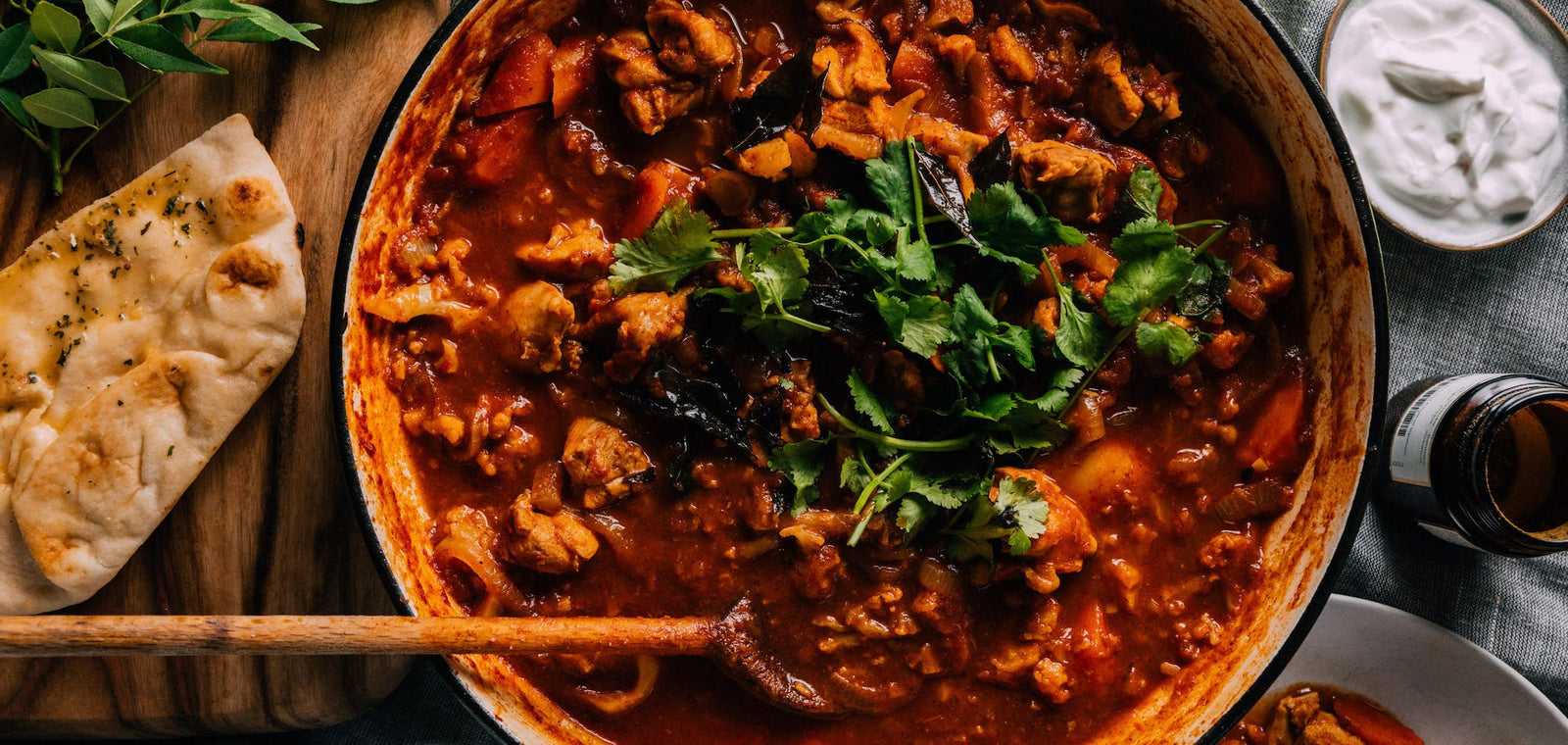 10 Recipes Perfect for Winter
It's winter: time to stay cosy with winter cooking. Whether you're looking to make comforting one-pot meals or to make batches of soups to freeze ahead, we've got 10 perfect recipes to help you stay warm and well-nourished this winter.
A delicious and easy-to-make dinner, the Grilled Immunity Chicken & Buttery Mash uses an assortment of vegetables to keep you feeling full and nourished. Simply coat chicken thighs with olive oil and Immunity Blend, then fry slowly to caramelise. Add the buttery mash potatoes and a nutrient-dense vegetable medley for a great mid-week dinner meal for yourself or the whole family.
Roasting vegetables before you blitz them into a soup is essential for this velvety combination of fennel, almond and apple. With the base of Chicken Bone Broth, this Roasted Fennel, Apple & Almond Soup makes for a great winter dish to cook up a batch and freeze for work lunches.
A Chana Masala made with our Garam Masala is definitely one reason to look forward to coming home on a winter's night. It's a chickpea-based, delicious Indian curry that's made by cooking the chickpeas in a spiced, tomato-based masala thick sauce, akin to gravy. Served on jasmine rice, Chana Masala is rich in protein, made with hearty winter vegetables and an overall healthy meal to keep you going during winter.
In need of a good and simple recipe for making bone broth at home? Look no further than our 24 Hour Chicken Bone Broth. Bone broth is a great source of nourishment during the cold winter months. It's good for its anti-inflammatory effects and helps with bone and joint health. Using apple cider vinegar in the broth helps to break down the chicken cartilage, bones, and soft tissues, allowing nutrients to leach into the broth. Bone broth is a delicious meal to eat on its own or as a base and supplement for other meals, such as the Roasted Fennel, Apple & Almond Soup.
Wake up to an egg and veggie hash with the Breakfast Immunity Hash. Packed full of mushrooms, kale and radishes with our Immunity Blend.
Apples and rum – yum! This Baked Apples with Rum recipe features sweet, plump apples. The secret to the taste of this recipe is Apple Cake Spice, enhancing the apple's natural sweetness. Scoring around the middle of the apple makes sure the apple doesn't burst during baking, keeping them juicy. Make sure you let the apples cool before serving with the tasty butter mixture, extra thick cream and that extra sprinkle of fresh thyme.
Although there are many variations to the popular Indian Madras Curry, our Easy Chicken Madras made with Madras Curry Masala has been tempered to match any spice level, making it very child-friendly. Coming home to a fragrant curry will make dinner time an absolute pleasure.
Definitely a change from your classic, Sunday-night-roast type of Perfect Roast Potatoes. These Harissa Roast Potatoes add a spicy twist to the traditional roast potatoes on a dinner plate. Serve them up with coriander and a generous dollop of sour cream and you'll have a refreshing addition to your weekly dinner rotations.
Nourishing, vibrant and classically Spanish. Spanish Seafood Paella is made with (naturally!) seafood and saffron, with a combination of Spanish paprika, cumin and parsley. Made using Spanish Skewer & BBQ Spice, this spice blend enhances the Spanish paella made with saffron. Serve with a light salad, parsley and lemon wedges.
The quintessential winter drink. Known as mulled wine in English, this cup of winter magic will warm all hands during cold months. Making mulled wine is very easy, so simple that you'll only need a few things: an infuser bag, a bit of sugar, Glühwein Gewürz and a bottle of wine. And if you're not a wine drinker, never fear: get creative and use mulling spices in your baking – Glühwein Gewürz pairs delightfully with poached pears in a Tarte Tatin or with Poached Quinces.