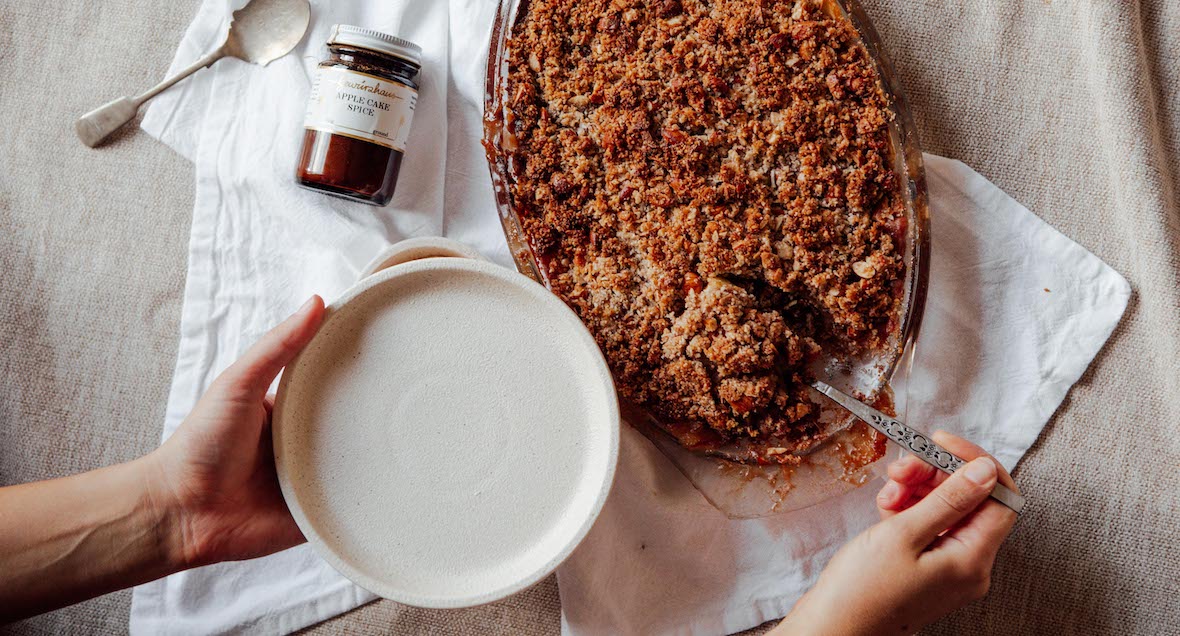 Baking with Apples: 10 Quick-ish & Delicious Recipes
It's time to discover the bounty of baked apple treats. For the home cook, the falling of leaves might not immediately spell out the arrival of autumn so much as the return of apple and pear season! You may have already seen the abundance of apples in your local grocery store or supermarket.
It's during this season that one of our most loved spice blends, Apple Cake Spice, returns to its full glory. Use in any apple cake or baked dessert recipe to elevate the naturally sweet flavours of apple and pear. It works great in fruit cakes, pudding, crumbles, tarts or even with fruit like bananas or fruit pancakes.
Let's celebrate the season. From apple pies to clafoutis, here are 10 ideas for what to do with your apples (and Apple Cake Spice) this autumn.
Enjoy apples for breakfast
For breakfast, we've got two recipes at hand. There's nothing quite like a bowl of steaming porridge on a cold morning. Add some Apple Cake Spice to your Spiced Porridge, serve it with apples, maple syrup and walnuts, and you'll have a perfect match. Or if you're looking for a bit more crunch, try the Spiced Nutty Granola. Bake up a batch of granola on the weekend, and then enjoy it for breakfast, as a snack or sprinkled over yoghurt for desserts.
The classic Apple Pie
The all-time classic apple dessert: this Apple Pie makes for the perfect afternoon tea treat or dessert, especially in autumn and winter. Bring together a mixture of fresh, seasonal apples (sweet and tart) for a classic filling for fruity pies. Enjoy its crisp and buttery pastry, served with cream.
Pear & Almond Tart
Strictly speaking, this dessert might not fit the bill here. As the name suggested, this Pear & Almond Tart doesn't involve any apples – but could just as easily involve them if you wanted to swap the pears out. That being said, the Apple Cake Spice proves that it's not just made for apples. Pair it with any pome fruit – pear, nashi or quinces – and you'll notice the warm depth it brings to the dessert. This pear tart will easily be one of the tastiest desserts you'll make this autumn.
Baked Apples with Rum
Ripe winter apples, rum, Apple Cake Spice and Coconut Sugar feature in this decadent dessert recipe. Like the sound of that? Try it out in Baked Apples with Rum. Scoring around the middle of the apple makes sure the apple doesn't burst during baking, keeping them juicy. Make sure you let the apples cool before serving with the tasty butter mixture and extra thick cream. If you have fresh thyme in your garden, sprinkle over some sprigs when serving for a bright contrast to the warming spices.
Apple & Pear Clafoutis
This Apple & Pear Clafoutis is quick(ish) to bake, keeps well, and makes for a lovely treat to share between friends. Clafoutis is basically the French term for a thin sponge cake, akin to a waffle or a thick pancake. This classic French dessert is traditionally baked with cherries, but equally good when using other seasonal fruit such as apples and pears in the cooler months of autumn.
Salted Caramel Apple Crumble
The caramel in our Salted Caramel Apple Crumble will have you going back for more and more. Perfect for sharing after dinner with your favourite people. This will be a dessert you will return to time and time again.
Apple Strudel
This flakey and golden Apfelstrudel or, Apple Strudel, is as comforting and delicious as it looks.
Buttermilk Waffles with Caramelised Apples
These pillowy buttermilk waffles with caramelised autumn apples will delight every member of the family. And you can just as easily turn these Buttermilk Waffles into pancakes if you don't have a waffle maker. Simply follow the note at the end of our recipe to do just that.
Triple-Layered Apple Cake
Stewed apples built into a triple-decker cake. Apples, butter, cinnamon and layered with thick cream, this Triple-Layered Apple Cake takes the cake (!) in terms of moisture and indulgence. Use microwaved apricot jam to brush over the top of the cake for another layer of indulgence.
Apple Sauce
Eat it with vanilla yoghurt, try it with cheese or top it up with nuts, dried fruits and granola. It's our Apple Sauce: an already moreish accompaniment, made more delicious with Apple Cake Spice.
Can you use Apple Cake Spice with other fruits?
In case you've got an abundance of bananas, we've got a banana bread recipe that you might like to try: Spiced Banana Bread with our Apple Cake Spice. It's warmly spiced and buttery, and especially great toasted in a pan and served with local filter coffee at home. It's becoming of a lovely morning routine (while the loaf lasts).
What else can you make with apples?
We've put together ten suggestions to bring your fruit to life using our Apple Cake Spice. But we'd love to hear what else you make with this spice blend. Head over to our Cooking Community and show us and others your autumn baked goods.