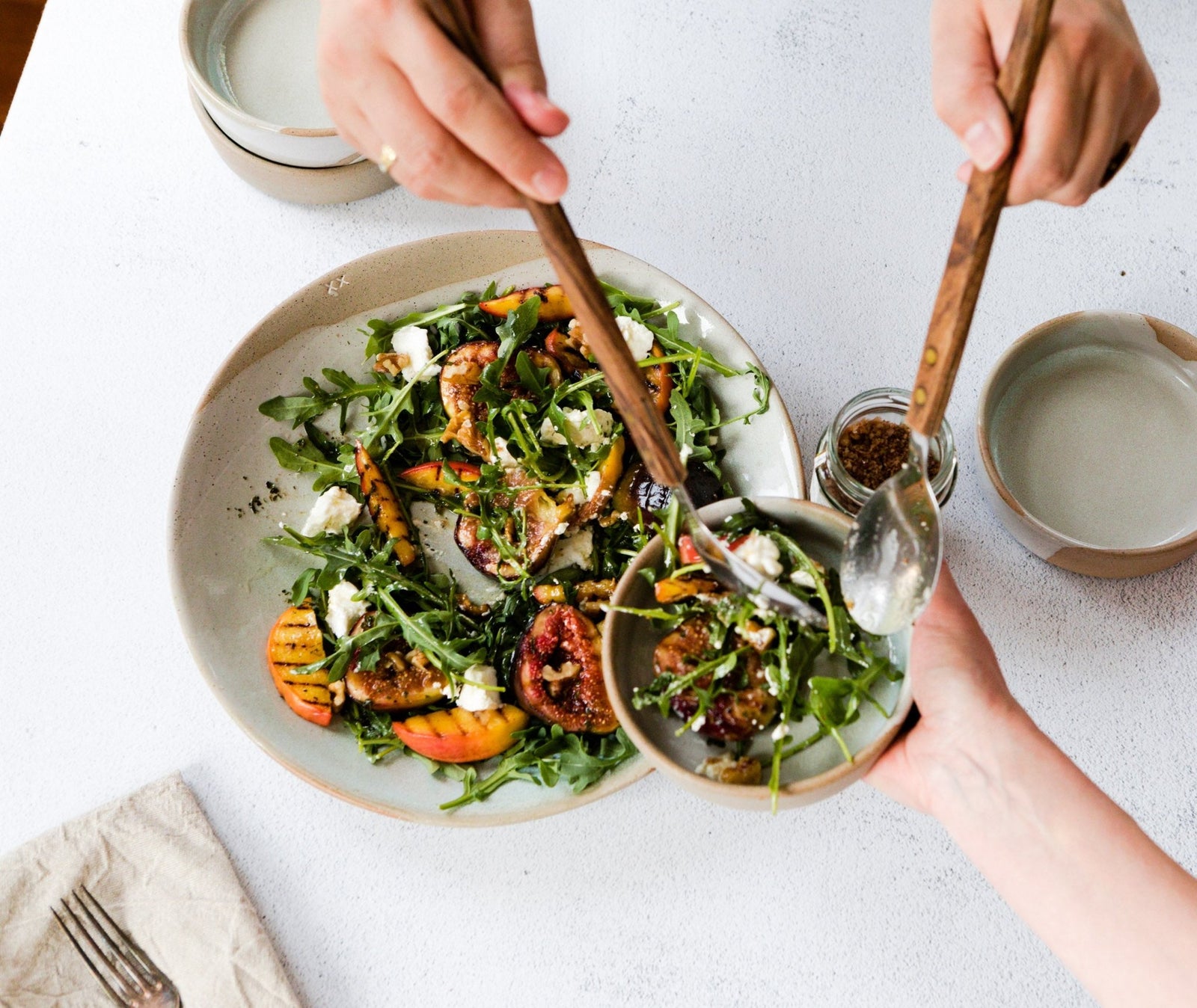 Light Summer Salad Recipes
When the days warm up and you're surrounded by beautifully vibrant summer produce, what's better (and faster to whip up) than a summery salad? We have assembled some of our favourite light and delicious salad recipes below. Enjoy them as a main on their own or as part of a summer feast.
Very few things are more refreshing on a hot day than watermelon. Paired with silky Persian feta and the Gewürzhaus Peppermill Trio, our Watermelon & Persian Feta Salad recipe works best when using the sweetest, juiciest watermelon you can find. 
Stone fruit and figs are a match made in heaven, and they are abundant in the summer months. The vinaigrette in our Smoky Grilled Peach & Fig Salad, featuring Salad Herbs paired with olive oil and balsamic vinegar, ties all elements together in a light, summery twist. 
This salad is a classic that never gets tired. The subtle aniseed from the fennel is balanced perfectly against sweet, juicy orange segments, with depth added from our Salad Herbs blend and Pyramid Flake Salt.
This Spiced Avocado, Prosciutto & Walnut Salad is visually impressive, delicious and incredibly easy to assemble. The addition of our Guacamole Spice takes the avocado to another level with its zesty kick.
Transport yourself down to the beach with our Lemon Pepper Calamari Salad. Our fragrant Native Lemon Pepper Blend lifts the dressing, adding aromatic and citrusy notes of saltbush, lemon myrtle and native thyme.
Inspired by Indian and Middle-Eastern flavours, this salad is incredibly nutritious and a would serve as a fantastic meal on its own. Garam Masala-spiced cauliflower pairs with cooling minted yoghurt with a zesty edge thanks to the addition of Amchur - Green Mango.
For summer, our refreshing Fennel, Apple, Red Onion & Aleppo Pepper Salad delivers both crunch, nutrition and spice. Fennel is good source of vitamin C and adds a liquorice flavour to salads and coleslaws. When thinly sliced – like it is in the Fennel Salad – it adds a crunchy texture without overtaking the dish's overall flavour. Also featuring green apples, fennel, rocket leaves and pickled onions, this salad ensures you'll get a good level of crunch and taste in one bite.
Similar to a Cesar, this Ranch Cobb Salad utilises our Ranch Spice to achieve a quintessentially American dressing that is gaining in popularity worldwide. Make some extra dressing for later and use it to accompany meat dishes or even as a dip on its own.
Festive and colourful, the Charred Corn Salad with Chorizo, Lime & Coriander takes a leaf straight out of the Mexican culinary playbook with our Chilli Con Carne blend. Fire up the barbecue to char the corn, or use a griddle pan inside. Enjoy for lunch alongside a barbecue or add some scrambled eggs for a delicious weekend breakfast.